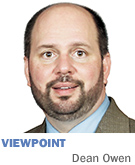 One day last spring, I put on a helmet, climbed on my bike, and rode to work with a
co-worker. For some people, that wouldn't be all that unusual. But for a guy who had only recently gotten on a bike
after more than 15 years away from two-wheelers, it was monumental.
I quit riding a bike before I got my driver's license. My mother had strict rules about where I could go on my bike.
I couldn't leave the neighborhood or ride on busy streets because she thought it was too dangerous. So, all my life,
I've thought of bike riding as something for children.
Over the three years I've worked at Broadbent Co., I've come to know Doreen, a co-worker who often rides to work
on her bicycle. When she arrives, she's all dressed up in her super-duper aerodynamic cycling outfit, with an ultra-cool
Kevlar dual-antenna cellular helmet featuring a heads-up tactical display.
She has a very nice bike, complete with radar-collision-avoidance technology, dual GPS navigation systems, laser-guided steering,
and computer-controlled suspension that automatically adjusts to different terrain. Doreen is an advocate of biking for health
and fitness and made an important point to me: You don't have to be in great shape to ride a bicycle.
That makes sense. First of all, you're sitting down. Second, there's no Federal Law of Bicycling that says you
have to furiously pedal at 40 mph. You can coast along at near walking speed, as long as you can keep your balance.
So last year I bought a used bike for $50. It's about 20 years old, has just three speeds, crappy tires, and is pretty
much the opposite of Doreen's setup. I didn't even get a helmet. I started riding around our neighborhood with
my kids. They absolutely love that their dad has a bike, because now we can explore our neighborhood together.
A few months into my newfound hobby, Doreen brought up Bike-to-Work Day. I was more than a little nervous about even trying.
My mom never let me ride outside my neighborhood, remember? Riding to work sounded like a big deal. Busy downtown traffic.
During morning rush hour. Eleven miles. Good grief! No way!
Doreen had some great insights. She said that if you really think about it, most of that traffic is slow, with all the stoplights
and pedestrians everywhere. Also, downtown Indy drivers are already used to bicycle riders as part of their day-to-day commute
and are required by law to make way for them.
I found out that Megan across the hallway lives only about half as far away as I do, and was happy to have a riding partner.
I borrowed a helmet from Doreen (she wouldn't loan me the one with the dual satellite dishes) and met up with Megan.
It was about 45 minutes riding from her house to the Circle.
Passing drivers were very courteous, and I never once felt at risk from the traffic coming into town. There were times it
was tough going up some inclines but easy coasting down the other side. When we got to the Circle, I really felt that I had
accomplished something. It wasn't like climbing the highest mountain, but it felt great to do something I was initially
unsure of and to find out it wasn't that hard. Hey, if Dean-who-hadn't-ridden-a-bicycle-in-decades-and-whose-mommy-never-let-him-ride-out-of-the-neighborhood
can do it, it can't be that bad.
This year, I was really pumped about Bike-to-Work Day. I'd lost about 10 pounds, upgraded to a nicer bike and even
recruited additional folks from the office to participate. It was a great experience.
So, I encourage you to try biking. Whether it's riding in your neighborhood with kids, riding to work, or riding for
health and fitness, start pedaling. You won't regret it.•
__________
Owen is network administration manager for the Broadbent Co., an Indianapolis retail real estate developer.
Please enable JavaScript to view this content.