"I didn't really know anything about the city or the people," she said, "but I was surprised by how
many community gardens there are around the city, how many urban farmers are very well-known, that there are so many organizations
working with local food."
She noted something else, too: "Most of the key leaders in the local food movement are women."
Hammerand rattled off a list of names. There's Linda Proffitt of Indianapolis-based Global Peace Initiatives, which
is turning vacant land into food-producing "peace gardens." Angela Herrmann of Indy [Grows] Gardens, whose organization's
motto is, "A community garden in every neighborhood." Tricia Mera of the Community Garden Resource Center, an
urban farming initiative in the Mapleton-Fall Creek neighborhood. Aster Bekele of the Indianapolis-based Felege Hiywot Center,
which teaches gardening and environmental preservation. And Laura Henderson, who started the Indy Winter Farmers Market in
2008 and co-founded Growing Places Indy, which has established a 6,000-square-foot Slow Food Garden at White River State Park.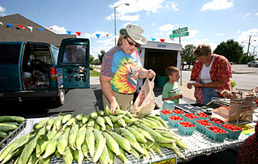 Theresa Stites, left, is the 'market maestro' at the Stadium Village Farmers Market, which is new this
summer. (IBJ Photo/ Perry Reichanadter)
That's just a short list. All over the city, from community gardens and farmers' markets to food co-ops and restaurants
serving locally produced food, to community-supported agriculture groups (CSAs) and farms themselves, women are driving the
interest in fresh, safe, healthful food.
"If you look at the role women have played in the local food movement, they are the ones who select the food and prepare
the food for their family in most cases," said Victoria Wesseler, a food expert and writer based in Lebanon, and a creator
of Going Local (goinglocal-info.com), a website devoted to Indiana food. "So they drive the movement by the choices
they make—the choices to go to the conventional supermarket or the farmers' market."
Gaining corporate attention
And since women are the primary grocery shoppers in 70 percent of homes, according to a U.S. Department of Agriculture
study, they're being heard. That's one reason why, in Kroger, you'll see signs over some produce that boasts:
"From the fields fresh to you. Locally grown. We support local farmers." At Marsh, a sign over a display of potato
chips lets the consumer know the snacks were made in Frankfort. Corporations are paying attention to the growing interest
in local food.
Julie Rhodes is a board member of Indy Food Co-op, which is working to open a full-line grocery store at 10th and Rural streets
that will be stocked with local products. She said when she moved to Indianapolis 22 years ago, there were no farmers'
markets. Now there are at least a dozen.
She said food scares like salmonella and E. coli have caused people to look more closely at what they're eating and
where it comes from.
"The ethics of the local food movement are far beyond just buying your food locally," Rhodes said. "It's
how it creates economic stimulus in your own community. It's not just a fringe group of people concerned about this."
Jane Lommel is market master ("I prefer to be called 'market mistress' or 'market maestro,'"
she said with a laugh) for the Binford Farmers Market, which has been open Saturday mornings during the spring and summer
at 62nd Street and Binford
Boulevard for the past four years. On a good day, more than 1,500 people come.
Lommel said customers enjoy talking to the farmers who raise the lambs, grow the corn, and pick the berries. Many, too, are
sensitive to the economic impact of their purchases, asking questions like: Why am I spending money on transportation for
my food? Why don't I just give a premium to a local farmer, a small guy out there growing the crops? Why don't
I
support the Hoosier economy by purchasing food grown in the boundaries of Indiana?
"People have really taken to that," she said.
Theresa Stites has observed that, too, at the Stadium Village Farmers Market, a new event that opened June 1 across from
Shapiro's restaurant on the south side of downtown. The market is open from 4-6:30 p.m. Tuesdays, and the first few
weeks it averaged 30 vendors and about 400 customers.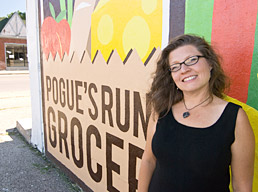 Julie Rhodes is helping launch a grocery of local foods at 10th and Rural streets. (IBJ Photo/Eric Learned)
Stites said she's been an avid farmers' market shopper for a couple of years. Last year, she volunteered at the
Indy Winter Farmers Market and joined Slow Food Indy, another organization dedicated to fostering a local-food culture. Now
she's market master for the Stadium Village market.
"I like that the food tastes better and I know what's in it and where it's coming from, and that the animals
are treated right and the people are treated right and make a fair wage, and that it's not coming from thousands of
miles away to get to me," she said.
Growing market segment
Direct-to-consumer food sales accounted for $1.2 billion in 2007, the U.S. Department of Agriculture reported. That's
only 0.4 percent of total agriculture sales, but it's up from $551 million in 1997. Another USDA finding worth noting:
The number of farmers' markets nationwide rose to 5,274 in 2009, almost double the figure from a decade earlier.
Laura Henderson started one of those, the Indy Winter Farmers Market, two years ago. She lives downtown and enjoyed the Traders
Point market, but wanted something closer to home. She also wanted "a more vibrant food culture. It builds community
and it builds economy."
The winter market, which operates on Saturday mornings from November through April, in its first year averaged about 25 vendors
and 450 customers. Last year, the numbers jumped to 50 vendors and more than 1,000 customers.
"I didn't go into it because I thought it would be a popular thing to do or a trendy thing to do," she
said. "I went into it because it's something I genuinely felt the downtown area needed and I thought I heard people
saying they wanted it."
For Bobbie Mattasits, the desire for local food started six years ago at an organic gardening class, which "got me
thinking very strongly that the way I was eating was not in my best interest." She began shopping at Traders Point and
now she's a member of the Blooming and Scenic Gardens CSA in Carmel, which distributes organic food from Amish farmer
Amos Miller in Rockville.
"I live for these six months, where there's all this fresh, wonderful food that's picked at the peak of
ripeness and is so flavorful and so full of nutrients," she said.
Eating to live
Lucinda Gingerich got into local food for a compelling reason: What she'd been eating was making her sick.
Her diet of processed foods left her with fatigue, rapid heart rate, high blood pressure and other problems. Initially, she
started a garden and changed her diet. Then, eight years ago, she and her husband, Jonathan, and their children moved from
Indianapolis to Kokomo, and for the past five years they've farmed 55 acres under the name Homestead Heritage.
They sell their chicken, pork, beef and other products at the Binford and Carmel farmers' markets.
"A lot of people are coming for local food—they're sick of having their food come from Brazil, California,
everywhere else," she said. "Some people are coming to get away from the chemicals. We do everything the green
way as much as possible. It's economical—and more sustainable."
Women unquestionably are major drivers in the growing popularity of local food, said Stevi Stoesz, who started the downtown
farmers' market in 1996 and now is director of business development and public relations for City Market.
"I think women are at the fore of this movement, and right behind them, very willing to have their hands held, are
the guys," she said. "They are coming right along with it. They're not reluctant participants. They want
to get it. And I think the women are speaking so impassioned about this movement that a lot of people are picking up on it."
That said, she thinks there's more to do to promote Indiana food, both locally and nationally. She mentions Judy Schad,
who makes goat cheese at Capriole Farms in southern Indiana.
"Her goat cheeses are better known in France than they are in her own back yard," Stoesz said.
"We should be promoting ourselves more," she said. "We've got to do a better job about hawking what
it is from an agricultural and food artisan standpoint that we do really well. Because we do a lot really well."•
Please enable JavaScript to view this content.