With large pharmaceutical companies shedding tens of thousands of jobs, the people left are slammed for time right as the
industry needs to focus on digging itself out of a deep crisis.
That's good news for Julie Aker.
The CEO of Indianapolis-based Concentrics Research LLC, a pharmaceutical services firm, is spending nearly the entire summer
in New Jersey setting up a strategy center in the back yard of her firm's biggest clients.
The 3,200-square-foot office in Parsippany, N.J., will employ as many as seven senior consultants, who will host days-long
meetings with managers from companies that make drugs as well as those that make medical devices.
Aker started the new center because she sees huge opportunities for Concentrics to continue the double-digit revenue growth
it has averaged the past eight years.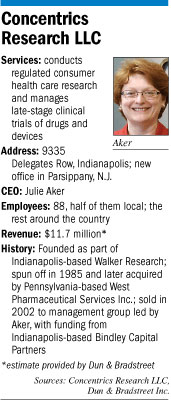 "We are dealing with most Fortune 100 companies," Aker said by phone from
her just-opened New Jersey office, where she now spends three out of every four weeks. "We're doing more business
with them. We're getting more robust programs with them. We're spending more time strategizing rather than going
study by study."
Concentrics performs two kinds of studies for its giant health care clients. It conducts consumer research to determine the
market potential and consumer understanding of drugs and devices. It also manages clinical trials leading up to a market launch
and after a product is on the market, in what is known as Phases II, III and IV testing.
The company has 88 employees, about half of them in Indianapolis. The company generates $11.7 million a year in revenue,
according to Dun & Bradstreet. Aker would not confirm that number but said Concentrics' revenue has doubled since
she became CEO in 2002.
Aker led a management purchase that year of the firm from Pennsylvania-based West Pharmaceutical Services Inc., with financial
support from Indianapolis venture-capital firm Bindley Capital Partners.
Aker, 53, earned a medical technology degree from Ball State University before working as a manager in a Colorado hospital
and the Indianapolis operations of Covance Inc., another contract research organization, or CRO.
Concentrics is particularly well-positioned to take advantage of major shifts in the drug and device industries because of
some of the niche needs it can fill for large pharmaceutical companies, said Brian Stemme, vice president of BioCrossroads,
an Indianapolis-based organization that promotes the life sciences industry.
"Small CROs can do well if they're very specific and they can bring something to the table that the large companies
value. I think Concentrics is a very good example of that," he said.
Since the high-profile recall of the Vioxx anti-inflammatory drug in 2004, the U.S. Food and Drug Administration has demanded
more surveillance of patients even after a product hits the market. And the FDA continues to ask drug and device companies
to lay out plans for how they will reduce and track risks associated with their products.
Concentrics puts together the clinical trials needed to meet both those demands, and has been doing more and more work in
those areas, Aker said.
In addition, the pharmaceutical industry has aggressively shifted more work to contract research organizations. That trend
was fueling 15-percent annual growth among all contract-research organizations as recently as 2008.
The meltdown on Wall Street led to the cancellation of many clinical trials, especially by smaller drug-development firms
that ran short of cash. Also, mergers among large pharmaceutical companies led them to use fewer but larger contract research
firms, such as New Jersey-based Covance Inc. and North Carolina-based Quintiles.
"Growth has not been as dramatic as I expected," said Alphonso Alanis, CEO of Anaclim LLC, another Indianapolis-based
contract research organization, which does more early-stage trials than Concentrics. "We're resuming growth now.
But money is still very tight."
But Concentrics has continued to grow during the recession as large pharmaceuticals look for ways to offset the loss in revenue
they'll see as patents on their drugs expire in the next few years.
"The trend of pharmaceutical companies spending significant amounts of money on late-stage services (Phase II –
Phase IV clinical trials) should be on the rise as companies seek to accelerate the commercialization of drug candidates to
compensate for upcoming patent expirations," Stemme predicted in a February report.
Eli Lilly and Co., a Concentrics client, has 30 experimental drugs in Phase II or III clinical trials, an unprecedented number.
That's because the company could lose half its current revenue as its best-sellers Zyprexa, Cymbalta and other blockbusters
lose patent protection from cheaper generic copies from 2011 to 2014.
Lilly's potential revenue shortfall is perhaps the biggest in the industry, but it's a common problem for large
drugmakers.
One of Concentrics' particular specialties is helping drug companies convert a brand-name prescription drug that has
a patent expiring into a brand-name drug available over the counter. Drugs that have successfully made this shift include
Claritin, made by New Jersey-based Schering-Plough, and Prilosec OTC, made by Cincinnati-based Procter & Gamble.
Concentrics has participated in three-quarters of all prescription-to-OTC conversions, Aker said.
The opportunities for such conversions are bigger than ever because the drugs that produce nearly one-quarter of all brand-name
pharmaceutical sales will see their patents expire in the next two years, meaning they'll face competition from cheaper
generics. Generics typically sap 80 percent or more of a drug's revenue. Switching to a brand-name over-the-counter
medicine can save more of that revenue.
"Clients continue to see this as a viable way to extend the life of their product," Aker said.
Even health insurers and health-benefits plans are eyeing the potential of over-the-counter drugs as a cheaper way than prescriptions
to keep their insured members healthy, according to Jim Parker, a former WellPoint Inc. executive who now runs his own consulting
firm, Meridian Strategic Advisors, in Indianapolis.
But to switch to over-the-counter status, the FDA requires various studies to show consumers can understand the product's
label, even without the guidance of a doctor, and will be able to understand whether it's right for their symptoms or
not.
Concentrics has developed expertise in the highly regulated advertisements, interviews and surveys needed to produce the
data the FDA wants.
In 2010, with the pharmaceutical industry 40,000 jobs lighter than it was a year ago, Aker sees that expertise only becoming
more valuable, which makes the company confident enough to expand to New Jersey.
"We see a lot of clients telling us, 'I just don't have the time to think; I need the time to focus,'"
she said. "That's the reason for opening a strategy center out here."•
Please enable JavaScript to view this content.