Indianapolis-area hospitals saw their amounts of uncompensated care fall last year after steep rises in 2008.
The four major, private systems are hoping the recession lifts before jobless benefits expire and leave more patients unable
to pay their bills.
Clarian Health's combination of free care for the poor and unpaid bills dipped ever so slightly to $167.4 million last
year, compared with $168.1 million the year before.
St. Vincent Health, a 17-hospital system, recorded charity care and bed debts of $128.5 million last year, down more than
7 percent from the previous year's total of $138.4 million.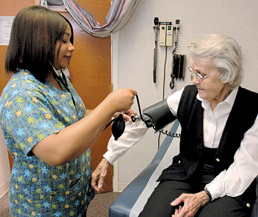 Nurse Carmen Cotham checks Betty Young's blood pressure at the St. Vincent Primary
Care Center in 2007. The clinic focuses on uninsured and under-insured patients. (File photo)
At Sisters of St. Francis Health Services Inc., charity care and bad debts totaled $92.1 million, down more than 12 percent
from the prior year's $100.4 million. Three of the 12 hospitals operated by the Mishawaka-based chain are in the Indianapolis
area.
Only Community Health Network saw its charity care and bad debt rise. The four-hospital chain recorded $79.1 million in those
categories last year, up 2 percent from the previous year's total of $77.5 million.
"I'm surprised they were down last year. I do look for them to be up big this year," said Ed Abel, a hospital
accountant at the Indianapolis accounting firm Blue & Co. "The economy's not doing well and health care's
typically the last thing people pay."
Abel
Unemployment in Indiana has moderated slightly, but more than 313,000 Hoosiers remain out of work. And with attempts to extend
benefits for the jobless stalled in Congress, it's likely more people will struggle to pay medical bills.
"We've seen more people in charity care or taking advantage of charity care or working out more structured payment
programs," said Joel Hoff, senior vice president for administrative services at Sisters of St. Francis.
All four hospital systems saw charity and bad debt spike in 2008 as the recession set in and unemployment rose. The increases
ranged from 18 percent at Community to 25 percent at Clarian.
Most hospitals waive the bills of patients making less than twice the federal poverty limit. For those with incomes above
that threshold, unpaid bills are classified as bad debt.
Hospitals have worked harder in recent years to make sure none of their bad debts were from poorer patients who would have
qualified for charity care. That's because some members of Congress have asked the Internal Revenue Service to scrutinize
whether hospitals are giving enough charity care and other community benefits to merit their exemptions from corporate income
and other taxes.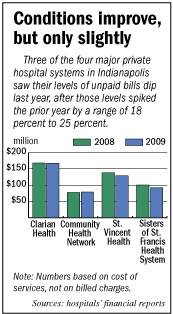 Hospital executives were shocked in 2003 when Illinois' attorney
general revoked the tax exemption of Provena Covenant Medical Center in Urbana, for failing to give charity care valued at
least at 8 percent of its revenue. The Illinois Supreme Court upheld that decision this year.
But nearly everyone—from hospital executives up to President Obama—acknowledge that hospitals have been forced
over the past two decades to make up more unpaid or under-paid bills by charging higher rates to those covered by private
health insurers.
"Those of us with health insurance are also paying a hidden and growing tax for those without it—about $1,000
per year that pays for somebody else's emergency room and charitable care," Obama said during a September speech
to a joint session of Congress.
Yet hospitals say the real burden is coming from the government itself. Reimbursement rates of Medicare, Medicaid and other
publicly funded programs have not kept pace since the 1990s with what it costs to provide care, they say.
"There's some pretty big dollars you have to make up somehow," said Hoff, the St. Francis hospital administrator.
He added, "What it ends up being is a tax on people who have commercial insurance and who get sick."
All hospitals make sure they document the value of those shortfalls.
For Clarian Health, public programs underpaid it by $648.1 million last year, an increase of nearly 12 percent from the year
before.
Clarian's 2009 numbers include 11 of its statewide hospitals, but do not include its facilities in Bloomington, Hartford
City, Muncie, Paoli and Tipton, which were not included in its finances before 2009.
At St. Francis, the shortfall from Medicare, Medicaid and other public programs totaled $270.1 million last year, up 4 percent
from 2008.
 
But Community Health and St. Vincent enjoyed shrinking shortfalls in 2009. At Community, public programs paid at $172.5 million
below costs, a dip of 2.1 percent from the previous year. At St. Vincent, the drop was even larger—6.3 percent—for
a total government shortfall of $185.1 million.
All hospitals calculate their government shortfalls by subtracting payments from what they say it costs them to provide care.
Some critics say hospitals manipulate those cost calculations to their advantage, but there's little controversy that
federal reimbursement has failed to keep up with the cost of delivering care.
"If the government went out to Boeing and said, 'We want you to build some planes, and they're going to
cost $400 million to build, and we're not going to pay you that much,' Boeing wouldn't do that," Hoff
said. "Yet that's what they're doing to hospitals."
Hospitals provide other donations and community health programs, which they quantify in their annual "Community Benefit
Reports," but those numbers are not included in this analysis.•
Please enable JavaScript to view this content.