Our month-long quest for red, white and blue eateries took us, ironically enough, to a Mexican place in Westfield. Located
in an old building in the heart of downtown, Queso Blanco (102 S. Union St., 867-5200) was doing a brisk Tuesday night business
despite the lack of off-street parking—and without the draw of south-of-the-border staples like margaritas and Dos Equis.
That didn't dissuade the families who showed up after Little League and soccer. There was nothing fancy about the neighborhood
restaurant—think reception hall seating and classic Mex menu—but Queso Blanco was packing them in despite nearby
competition from two of the nearly ubiquitous strip-mall chains.
We wanted to find out why.
So we ordered the Queso Fundido appetizer ($4.99), one of our standard measuring tools for Mexican joints. For the uninitiated,
it's basically melted white cheese (the namesake Queso Blanco in this case) mixed with chorizo sausage. Often, grilled
tomatoes, onions and peppers are added to give it some redeeming value. And more times than not, it's served with warm
tortillas instead of chips.
Queso Blanco kept it simple. No veggies. No tortillas. Just cheese and plenty of sausage. It was greasy and delicious, but
we missed the break from crunchy chips that tortillas offer.
(For the record, the chips and salsa were solid, if fairly tame. We asked for a spicier sauce, which delivered the expected
punch, but it was so runny we were tempted to use our straws to get it from bowl to mouth.)
When it came to our entrees, we tried to avoid the standard burrito-enchilada-fajita in favor of choices that looked a little
different.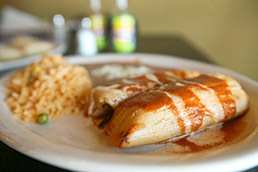 A mild red
sauce pulls together the pork tamale meal at Queso Blanco. (IBJ Photo/ Perry Reichanadter)
So I ordered the Taco de Azada Con Chorizo ($10.79)—a variation on my favorite steak taco dish—and my husband
opted for the Two Tamale Meal ($9.29). Served with creamy refried beans and uncharacteristically tasty Mexican rice, the pork
tamales were a big hit. The handmade tamales struck just the right balance between corn masa dough and flavorful pork, and
the mild red sauce on top tied everything together well. Let's just say I was on my own when it came to finishing the
appetizer.
My meal was good but not great. Four flour tortillas (a little too uniform to be homemade) were filled with a generous portion
of grilled steak and spicy chorizo, with pico de gallo and beans on the side. But I missed the tomatillo sauce that usually
accompanies steak tacos, and I may have suffered from a bit of chorizo overload. The sausage added a deeper flavor to the
dish, but it was so rich I could eat only half of it. Plus, the grease from the chorizo soaked my tortillas, preventing me
from telling myself that I made a fairly healthy choice. Reality bites, indeed.•
—Andrea Muirragui Davis
__________
Third in a month-long series of reviews of red, white and blue eateries.

Please enable JavaScript to view this content.