Gov. Mitch Daniels' dreams for education reform are on the ballot all across the state this November—even though Daniels himself isn't.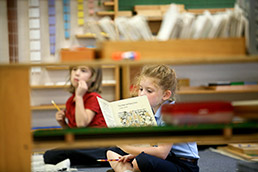 Eilidh Ferries-Rowe, right, works on identifying story elements in her first-grade class at IPS School 56. Major changes to public schools are on Republicans' agenda for 2011. (IBJ Photo/ Perry Reichanadter)
Daniels and public schools chief Tony Bennett have major legislative changes they want to make—but to do it they need their Republican Party to regain control of the Indiana House of Representatives, putting them in control of the entire legislative process.
"The chance to transform education in this state is right there in front of us, and it is so overdue," Daniels told a group of young professionals volunteering for Republican campaigns during a meeting in August. But, he added, "We cannot get to first base let alone home plate on those reforms, unless we do have a success in the House of Representatives."
Daniels
Daniels declined to be interviewed about his dreams for education until after the election. Following suit, Republicans on the campaign trail have been quiet on the details of what they would do to change K-12 schools—largely so Democrats can't "pin anything on us," as one GOP legislator described it.
But that's not to say Daniels, Bennett and Republican lawmakers haven't made their views known. By reviewing their speeches, comments during meetings of education leaders, and by conducting interviews with politicians, lobbyists and policy advisers, IBJ put together a list of the most likely proposals Republicans will make—should they win the House. They are:
Bennett
• Change collective bargaining rules to create a system of performance-based pay for individual teachers, based mostly on their students' year-to-year improvement on standardized tests.
• Increase the number and funding of charter schools, and allow more low-income students to obtain tax credits for private school scholarships.
• Rewrite the state's funding formula for public schools to make state funding follow quickly each student to whichever school he or she attends.
• Encourage and perhaps require schools to take steps to reduce administrative spending and increase classroom spending.
• Strengthen the state's main school accountability law, perhaps by allowing state education leaders to intervene more quickly in failing schools.
Daniels & Co. have two things going for them: a pro-Republican tide that's evident throughout the country, including in Indiana, and strong momentum for education reform created by President Obama.

Obama nearly overnight transformed the political dynamics of education reform by launching the Race to the Top competition, dangling $4.4 billion in front of states that undertook overhauls of their school systems.
Whether Daniels might try a similar pile-of-cash strategy to accelerate education improvement—as he did in 2007 by unsuccessfully proposing to lease the Indiana Lottery and spend money on higher education scholarships—is unclear.
Obama, a Democrat, has been able to go against many of the wishes of teachers' unions on education reform and get away with it. But in Indiana, few Democrats have championed reform along with Daniels and Bennett. They especially bristle at Bennett's rhetoric that suggests anyone who opposes his ideas opposes all school kids.
So Daniels and Bennett are trying a brute power play designed to reverse Democrats' four-seat majority in the House so they can push through education reforms without currying Democratic support.
Daniels used the last time Republicans controlled the House—in 2005 and 2006—to push through many laws aimed at improving the state's economy: overhauling the state's economic development agency, switching to daylight-saving time, and leasing the Indiana Toll Road to fund numerous road projects.
Now, Daniels says, the last remaining piece to his work on the economy is to transform education.
"If Indiana is going to stall out in trying to become the state of opportunity in jobs and growth, it's going to be because we don't have a superior education system," Daniels said in August during his talk with the campaign volunteers.
Rewriting labor laws
Daniels' and Bennett's drive for performance-based teacher pay would require major changes to state labor laws for teachers—and many teachers fear they want to eliminate collective bargaining entirely—as Daniels did for state employees on his first day in office.
Bennett said that's not on his radar screen. And Bob Behning, the top House Republican on education issues, said most Republican lawmakers would not support such an idea.
But teachers don't know if they can support Republicans proposals without knowing the details behind them.
Traci Prescott, a music teacher at Washington Irving Elementary School, part of Indianapolis Public Schools, said she and most teachers would support being paid based on their students' performance—if such a system adequately reflected the complex challenges they deal with.
"I still need to get the details before I know if the system is good," she said.
In Indiana's unsuccessful application for Race to the Top money, Bennett's staff proposed a system that tracked a student's growth on the state ISTEP test each year and compared it with that of peers who started out the year with the same scores.
If a teacher's students one year improved their scores more than their peers', the teacher would be rewarded with higher pay.
Bennett wants at least 51 percent of teachers' yearly evaluations—which would determine their pay—to be based on student improvement in test scores.
To put that system into place, legislators would need to alter the 1973 law that first allowed public schoolteachers to unionize. The law stipulates teacher pay can be set based only on years of experience and professional degrees earned.
In addition, legislators would have to renew language inserted at the end of the 2009 session that allowed, for the first time, the use of student test scores in evaluating teachers' performance. That 2009 adoption applied only for purposes of the Race to the Top application.
"If it's our core mission to grow children, then at least half the evaluation needs to address that core mission," Bennett said.
His proposal is clearly going to be a sticking point with the Indiana State Teachers Association, the state's largest teachers' union.
Schnellenberger
Its president, Nate Schnellenberger, said he dropped his support for Indiana's Race to the Top application in part because of the 51-percent requirement. He then supported Indiana's application for a different federal grant to start a performance-based program with a smaller percentage of teacher evaluations based on test scores.
In addition, Schnellenberger would prefer that performance-based pay be awarded to the schools or school districts that perform best, rather than to individual teachers.
"We think teachers should be evaluated on multiple levels, one of which could include test scores," he said.
As for Bennett's plan, he added, "The competitive nature of it makes it something that teachers don't really want. They don't want to be pitted against each other for money."
But that's clearly the way Bennett and the Republicans are heading. Bennett's Department of Education is already preparing a matrix that would at least guide—if not de facto mandate—local school corporations on how to implement performance-based pay for teachers.
Changing funding formula
For school administrators, the biggest issue in next year's session will be further shortening or possibly even eliminating the "de-ghoster" policy, which steps down funding for a school district over three years when a student departs for another district and steps up funding gradually when a student moves to a growing district.
The policy ends up paying declining urban districts much more per student than their fast-growing suburban peers.
It's why three school districts in the Indianapolis suburbs have sued the state to force a change in the formula.
"The growing school, we've born the brunt [of the funding formula] on a per-pupil basis," said Mark Keen, superintendent of Westfield Washington Schools, contrasting his district with shrinking urban districts like IPS.
Daniels has not spent much political capital on the time-worn debate over the funding formula, but he has clearly expressed that he wants to change it. In his very first State of the State address in January 2005, Daniels said the state's funding formula is "broken and indefensible."
"It is time for a system the average citizen can understand, one based on clear, fair principles," he said. "That system should begin with equal dollars per child, adjusted for the special care we must provide to children of poverty, or with genuine disabilities, to any kid on whom life has placed a special burden. I ask this assembly to replace today's Rube Goldberg formula."
Daniels also called in that speech—and many since—for school districts to stop spending so much money outside the classroom—roughly 40 cents on every dollar in funding goes toward administration, transportation and buildings.
This rhetoric—and Daniels' moves to greatly restrict districts' ability to raise local property taxes for building projects—have earned him the ire of superintendents around the state.
"The percentage of dollars going to the classroom is a flawed discussion," said Keen. He said growing schools need to spend more on transportation and buildings to accommodate new students, which then makes them look bad in Daniels' calculation.
But expect Daniels to start the discussion again. After he gave a speech in May on Indiana's economy to the Economic Club of Indiana, Daniels responded to a question about education with a deck of 10 PowerPoint slides, showing that Indiana ranks third in the nation for school spending per student, when adjusted for the cost of living, and yet ranks in the bottom 10 for percentage of funding spent on instruction.
House Republicans already have prepared a series of proposals to help—or even require—school districts to trim their administrative costs, such as by joining the state health insurance pool.
Expanding school choice
Republicans also will pursue the conservative dream of greater school choice.
That means getting more charter schools launched and expanding the private school scholarship tax credit program, which launched this year by providing a 50-percent tax break on scholarships given to low-income students to attend private schools.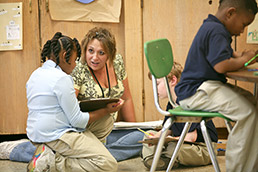 IPS School 56 first-grade teacher Cheri Norman helps kids with their classwork. (IBJ Photo/ Perry Reichanadter)
Charter schools receive public funding for students they enroll but are freed from many restrictions traditional schools must follow. Since charter schools were first allowed in 2001, 49 have been authorized by either Ball State University or the mayor of Indianapolis.
Republicans want to increase the number of entities authorizing new schools, perhaps by creating a state board that would do so or by enticing other universities—who already are allowed to sponsor new charters—to begin doing so.
They also want to increase funding for charters, which now do not receive any funds for transportation or building costs, as traditional public schools do.
"We're looking at ways to make sure there are more options. We want to limit the obstacles," said Behning, the ranking Republican on the House Education Committee. "We want charters to do as well or better than traditional public schools, but we don't fund them at the same level."
Both charter schools and tax credits for private schools have been controversial, with public school leaders saying they sap students—and therefore funding—from public schools, hurting the educations of those students who remain in traditional public schools.
Interestingly, both charter schools and scholarship tax credits were approved when Democrats controlled the House of Representatives—not when Republicans were in control.
That's an indication that the politics around education are not a simple party fight, said Derek Redelman, an education lobbyist for the Indiana Chamber of Commerce, which supports Daniels' and Bennett's reforms.
When the debate heats up over performance-based pay, expansion of school choice and, especially, overhauling school funding, Redelman expects many Republicans to feel heat from their local district school leaders to reject Daniels' and Bennett's ideas.
"We've always had problems with some number of Republicans with every effort that we've pursued in education," he said. "I don't think anything is going to be a slam dunk if the Republicans get a majority in the House."•
Please enable JavaScript to view this content.