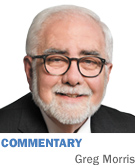 Another election is in the books. Most folks are relieved. By the end of an election cycle, people are weary of the constant barrage of negative ads and personal attacks. But the relief is short-lived. No matter your political persuasion, you're rarely happy with all the results and you quickly realize the next election is gearing up because the rhetoric and analysis is still going strong.
I have a confession to make: I love it.
I enjoy trying to peel away the outer covering of the business of politics, like an onion, to see what's underneath. It's hard to find the truth sometimes, but it has to be buried there somewhere among all the exaggerations and misleading information jammed into 30 seconds on television—or not.
Speaking of television commercials, some local TV execs admitted to me that so much money was spent on their stations in 2008 that President Obama (and the related issue money) single-handedly kept their balance sheets strong despite a big advertising dip caused by the down economy. Big bucks? You betcha! (That will be my only reference to Sarah Palin in this column.) Obviously, expenditures were high this go-around also. You can imagine the blitz coming in 2012.
I was raised a Hamilton County Republican. Over the years, the party chased me away with a severe turn to the right. Today, I would classify myself as an independent leaning to the right. I vote for moderate Republicans and moderate Democrats who try to vote their conscience, not the party line. I dislike extremism in any form. Some say the only good thing in the middle of the road is a dead skunk, but I truly believe that is where the majority of Americans resides. (No real skunks were harmed with this metaphor.)
By the time you read this, the election will have been dissected many times over, so you don't need me to rehash everything. But I do have a few thoughts.
The Democrats have to be happy with their Marion County run, and the Republicans dominate elsewhere. It's not a bad result. In Marion County, and central Indiana as a whole, I believe we have, for the most part, a competent group of elected officials to move us forward. Most likely, not every candidate you voted for won. But now that we have our lineup, I hope these folks are successful in their jobs. We all win if things go well.
Statewide, Gov. Daniels now has his majority. Honestly, I don't always like that, but in this case I think it is a good thing. I trust him. I believe he is trying to achieve objectives that are designed to provide the best possible life for all Hoosiers. Patrick Bauer, whom some would call an obstructionist, will still be a formidable opponent, but his power to kill agenda items without a hearing is reduced with the Republican takeover of the House. The governor's last two years should be interesting—and I hope productive.
As for Washington, I think it's pretty obvious by this time that the change most people thought they were getting from the 2006 and 2008 elections didn't come to pass. It didn't take long for the independents and disillusioned Republicans who voted for Obama and the Democratic majority to see the extremism creeping in. The Democrats over-reached and did so at a record pace. As a result, they got the boot at a record pace. Why did they over-reach? Because they could, just like Republicans have done in the past.
We now have a split Congress, which is good. Neither party is trustworthy enough to be given the keys to the kingdom. We need this group of elected officials to work together to restore the confidence needed to dig out of this ugly economy. Hey, Washington—did you hear the "too much government is bad" message last week? Get rid of the big spending and anti-business attitude and let's get people back to work.
Can they play nicely together in their big sandbox? The odds are long, but like a successful sports franchise, we need to keep adjusting the lineup until we find a winning combination. The next election will be here before you know it.•
__________
Morris is publisher of IBJ. His column appears every other week. To comment on this column, send e-mail to [email protected].
Please enable JavaScript to view this content.