Every time I wear my pair of Studio AMF earrings—elongated teardrops made of walnut—I find myself subconsciously petting them. I tilt my head slightly to one side and marvel at how the wood is sanded so smooth it feels more like velvet than a former tree.
I can't help it. And as I've observed at many a fashionable gathering, neither can anyone else.
I've witnessed a girl wearing a ring on her index finger, mindlessly grazing it with her thumb as we discussed the future of her photography business. Another likes to curl and uncurl wood shavings dangling from her ears and still another traces the circular shapes on the sweeping chandelier earrings that nearly touch her shoulders.
While making these observations, I never had to ask whether a piece was by Allison Ford, the talent behind Studio AMF, because it's obvious. Most seasoned shoppers know a Cole Haan handbag by the distinctive woven leather and can recognize Betsey Johnson jewelry by its outrageous bows and sparkly things. Local design junkies know a Studio AMF piece by its painstakingly finished woodwork embedded with specks of sterling silver. That type of branding is difficult to achieve without using a giant logo, and Ford is one of few, if not the only, local designers to pull it off.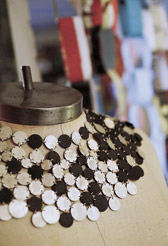 Jewelry designer Allison Ford says she struggles to produce enough stock to sell on her website. (IBJ Photo/ Perry Reichanadter)
Woodworking runs in Ford's family (her grandfather was a home builder), but she laughed when I asked if she'd learned everything from him.
"No," she said. "He didn't teach me anything. I taught myself. And I'm glad, because the first time I attempted a ring he told me it was impossible."
We were chatting on a ratty couch in her basement studio at the Harrison Center for the Arts, where she greeted me wearing a pair of dirty gray coveralls rolled up at the ankles, her 2-year-old daughter, Harper, peering up from behind one of her legs.
The space looks every bit a woodworking studio, mixed with plenty of lighthearted fun. A beefy work bench looms in the middle of the room, strewn with wood scraps and tools. Yards of paper chains hang from the rafters and the dim lighting is supplemented with strands of Christmas lights.
Ford took her first jewelry-making class when she was 11 years old, but lost interest in the hobby when she attended IU for general studies. Tired of working for someone else, she rented the Harrison space two years ago, after ditching a career in retail management.
"I had kind of forgotten about this," she said as she looked around.
Between her presence on Etsy (an e-commerce site for small-scale craftspeople), her website and her retail sales, she said she can barely keep up with production. Each piece takes an average of two hours to create.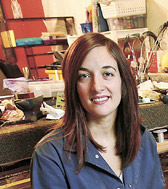 Ford prefers working with hardwoods like African black wood. "They polish up, looking like stone," she said. (IBJ Photo/ Perry Reichanadter)
"The amount of jewelry I make depends on how much cash is in the Studio AMF bank account," she said. "My local presence continues to grow, but soon it'll get too big. One time some blogger put one of my rings on a holiday gift list and I had to make 40 rings overnight."
She said the majority of her business comes from local interest, generated by events like the Indiana Handicraft Exchange, a biannual festival where Midwestern artists gather to sell their handmade goods. Since Ford moved to Indianapolis from South Bend with her husband in 2002, those shows have helped her make friends.
"I find if someone's really drawn to what I make, we're probably going to get along really well. I just make what I would want to wear," she said.
Perhaps that's how Ford has achieved the varied consistency required of a recognizable collection. Each piece is unique, yet they're all clearly made by the same hand.
Ford says she plans to broaden her exposure by approaching gift shops at museums of modern art and recording production videos for websites, but all of that will most likely be put on hold, which explains the coveralls.
"I'm pregnant," she said, stretching the cotton over her belly to show me the tiny bump. "I'm going to grow my business, but it'll have to coincide with growing my family."•
__________
If you'd like to share your own style ideas or know anyone who's making waves in the fashion community, contact Gabrielle at [email protected]. This column appears monthly.
 
Please enable JavaScript to view this content.