Dealer Expo, one of the country's largest trade shows, christened the expanded Indiana Convention Center on Friday by becoming the first event to take place in the just-completed $275 million addition.
The massive powersports convention will be in Indianapolis through Sunday and should attract roughly 20,000 visitors who will generate an estimated $20 million in direct spending, according to the Indianapolis Convention & Visitors Association.
About 750 exhibitors from across the country are expected to attend, some of whom in years past were crammed into meeting rooms or spread throughout the convention center's corridors.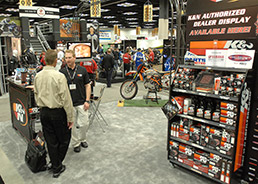 The recent expansion of the Indiana Convention Center helped cement Dealer Expo through 2016. (IBJ Photo/ Perry Reichanadter)
Dealer Expo is produced by Advanstar Communications Inc., which is based in Irvine, Calif.
"One of the advantages now is that all of our vendors can be in one contiguous event space," Dealer Expo Vice President Danny Phillips said. "It's an upgrade for the exhibitors and it significantly improves the experience for visitors."
Nearly 350,000 square feet of exhibit space was added to the convention center, pushing it from 32nd largest in the United States to 16th. The facility, when combined with Lucas Oil Stadium, offers a total of 1.2 million square feet of exhibit and meeting space.
The expansion helped retain Dealer Expo, the group says. Trade show executives in November committed to keep the annual event in Indianapolis through at least 2016—extending its stay by five years. The city has hosted the show, which ranks among the top 100 conventions in the country, every year since 1998.
"We're ecstatic, because every square inch of the facility is being utilized by Dealer Expo," ICVA spokesman Chris Gahl said. "It's rewarding that they will be the first group to use it."
While size matters in the case of Dealer Expo, so does timing. The show, which features motorcycle, ATV, personal watercraft and snowmobile products, is held in February—traditionally a slow convention month for cold-weather locations like Indianapolis.
The timing also is ideal for Dealer Expo's exhibitors, whose customers shop early in the year for after-market parts to stock for the summer season.
A high concentration of motorcycle dealerships in the Midwest that can travel to the event by car originally helped lure Dealer Expo to Indianapolis. Now the convention center expansion and the addition of the 1,000-room JW Marriott hotel will help keep it in the city.
"The look of the venue and the layout of the venue, those were very big reasons why we stayed," Phillips said.
Please enable JavaScript to view this content.