A new residence hall is taking a back seat to science in Franklin College's ongoing campaign to make over the campus.
The 1,000-student, private college last year completed the first stage of a 15-year, $85 million campaign by raising $5.8 million for athletic facilities.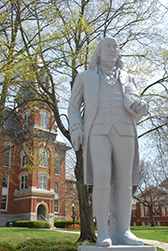 Franklin College is renovating its science labs to emphasize student-driven research over "cookbook labs." (IBJ File Photo)
Next up is renovating science labs to emphasize student research, President Jay Moseley said. Originally, the college planned a new residence hall in the second stage of the campaign.
Moseley said science moved up the priority list because of feedback from industry leaders, who are looking for students who adapt to changes quickly. Franklin, which offers bachelor's degrees in chemistry, biology and other areas, will not add new degree programs, Moseley said, but is looking to make student-driven research, rather than "cookbook labs," the focus.
Moseley said it's not clear yet how much the next stage of renovations will cost. About $500,000 of a recent $4.2 million bequest from the Effie Joan Behrens estate will go toward the science makeover.
 
Please enable JavaScript to view this content.