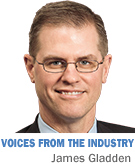 The innovation that led to the execution of Super Bowl XLVI was truly remarkable. On so many dimensions (crowd sizes in Super Bowl Village, scarves, the Legacy project, volunteers, murals and Super Service to name a few), Indianapolis demonstrated that it is a first-class city. It demonstrated once again, and on a level never before seen, that Indianapolis is a best practice for those studying hallmark event execution.
Yet, a January IBJ article by Anthony Schoettle highlighted the challenge ahead. Research demonstrates that Indianapolis does not have a strong brand image for two-thirds of the U.S. population.
I can relate to this. After a 20-year hiatus, I left Massachusetts in 2009 to return to Indiana. I recall the quizzical looks I faced out East when I told them about our move, and how little people knew about Indianapolis. It was only those who were from the Midwest or spent significant time in Indianapolis who could share in my enthusiasm about Indianapolis.
This is something that needs to change.
This city deserves a more prominent place in the eyes of people nationwide. Indianapolis' excellence at hosting major sporting events is a component, and it provides a formidable and continued foundation on which to build.
But there is a need to look at this a little differently. It starts with asking a question—what makes Indianapolis such a great sport-event host?
The answer lies in the effusive praise heaped on Indianapolis. Put all the media coverage together and a major theme emerges: Indianapolis delivers an unusual level of service. Hoosier hospitality is real and it is genuine. It is something unmistakably unique. It is part of our DNA and critical to brand-building efforts.
Why can't Indianapolis be differentiated on the level of service it provides to any visitor to this great city? To build a brand based on service, an organization must go way above and beyond, deliver beyond people's wildest expectations. Isn't that what just happened?
In a service industry like tourism, people make all the difference to a brand. In Indianapolis, the tourism brand can be built on excellent service. It has worked for Disney in the amusement park business. It has worked for Nordstrom at the retail level.
While many might need a break from "Have a Super Day," the concept of collaboration around exceptional service to provide a unique and positive experience must continue.
Imagine what it could look like.
As visitors enter or leave the city, they would see messaging (billboards and signs) about Indianapolis' brand promise related to service. In addition to the standard visitor information materials available, Indianapolis would encourage its guests to evaluate all aspects of their visit (as all good service-oriented brands do) through an online portal. If someone indicated a less-than-stellar experience, they would receive a follow-up communication from a local volunteer.
Programs would continue to engage hospitality employees of the city in a collaborative rather than competitive way. Concierge and front-line hotel employees could collaborate on a Twitter account that highlighted their "picks" for great experiences (think the employee picks section at Barnes & Noble). Customer relationship management tools could be used to create a "people that liked this attraction, also liked … " referral tool (think the communication from Amazon.com).
These ideas are only a start. I have heard Indianapolis Convention & Visitors Association President Leonard Hoops talk about not one, but multiple, visitor centers (even one that is mobile). Great idea!
Indianapolis collaborates like no other city to deliver an exceptional experience. The Super Bowl illustrated this point. It is a point of differentiation that must be further developed, activated and promoted.
While I recognize modesty is also part of the Indianapolis DNA, the great thing about a brand built on service is that the messaging is more subtle. The proof is in the delivery and thus is even more geared to attracting repeat visitors.
A brand built on a core promise of excellent service is also consistent with Indianapolis' other assets such as a connected city with many attractions within a 15-minute walk.
Great brands are built over long periods. For about 30 years now, Indianapolis has over-delivered on its promise of a great experience when attending a mega-event. Indianapolis is a city on the rise. Promoting service as central to the brand is a logical next step.•
__________
Gladden is dean, physical education and tourism management at IUPUI. Views expressed here are the writer's.
Please enable JavaScript to view this content.