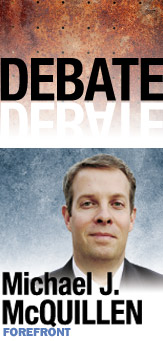 Question: The Mind Trust proposes shifting control of Indianapolis Public Schools from a board elected by citizens to a board composed of appointments. The mayor would name three of the five members of the proposed board, and the City-County Council would appoint the other two, one from each party's major caucus.
Answer: Do you favor the proposal?
Every school day, thousands of students and hundreds of educators go to work in a broken urban education system. For the $530 million taxpayers invest in Indianapolis Public Schools every year, fewer than 70 percent of our students graduate on time and fewer than 50 percent are considered proficient at math and English.
Our community has invested millions of dollars in supposed reforms, and countless school boards and superintendents have promised improved results, with little to show for it today.
It's a shame, because Indianapolis boasts brilliant young talent and innovative, quality educators.
Why is there such a gap between potential and outcomes? The system is broken.
An embarrassingly bloated central administration siphons money and control away from the classroom, and little to no money is being invested in new ideas or proven reforms. Less than 40 percent of tax dollars ever makes it to a school building to be used for student progress. Under a system like that, it does not matter how much you invest, because 60 percent of the investment never makes it to the students.
The status quo is not an option for Indianapolis children, and adults in this community must not allow this crisis to linger. The time for change has come.
Countless board members, superintendents, community members and activists have meant well in their efforts to build a better district, but decades of investment and promises have left us with a system that does not lead our children to the position in life they deserve or to the standards our community should demand.
The Mind Trust has proposed a plan for an IPS renaissance, a rebirth of a district relentlessly focused on results for our city's children, feeding nearly 75 percent of every dollar to a classroom.
By making major structural changes, we can nearly double the amount of money being used by great teachers for the benefit of our students, and we can do it without raising taxes. By shifting control of the district to the mayor and the City-County Council, we can slash central administration costs and move that savings to the classroom.
Along with savings, we can shift control to school building leaders who will shape their own budgets, staffs and instruction methods. Schools in Indianapolis can become centers of innovation responsible for remarkable student progress and achievement, where great teachers can access an almost limitless tool kit and nearly double the funding resources.
The Mind Trust plan paves the way for universal preschool instruction in the district without waiting on the state to pick up the tab and without raising taxes. Every 4-year-old can learn the elemental skill sets that will serve as the foundation for learning and achievement.
As we work to rebuild our broken district, we must aim not for perfection, but for progress. Mayoral control is not a perfect solution, but it is a systemic change that will force student success and educational outcomes to the forefront of our public consciousness, where they belong.
We should all agree the status quo is not sufficient. The discussion of student-centered reform has been going on for some time now. Soon, discussion must end and action must ensue.
This plan is research-backed and fact-based, and it is the most comprehensive road map to real reform we have seen. This is the right plan for the IPS community. I am committed to working across aisles and chambers to move this plan forward.
Every school leader, teacher, parent, business owner, not-for-profit director, and taxpayer should engage in this conversation, because the education we provide our students today reflects the priorities of our community tomorrow.•
__________
McQuillen, a Republican, is minority leader of the City-County Council. Send comments on this column to [email protected].
Please enable JavaScript to view this content.