The Indianapolis Airport Authority is moving ahead with plans to build an "airport city" centered on its property, but not without buy-in from the surrounding communities.
Officials from Hendricks County and the towns of Avon, Mooresville and Plainfield are among the regional stakeholders being asked to help flesh out the IND Aerotropolis concept, envisioned as a hub for businesses drawn to the accessible location.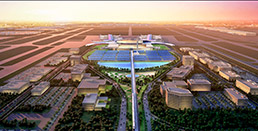 IND Aerotropolis is the Indianapolis Airport Authority's plan to transform its old passenger terminal and other airport property into a regional economic development hub. (Rendering Courtesy Indianapolis Airport Authority)
If all goes as planned, the resulting economic development will extend well past the airport property—and municipal borders.
Airport leaders are assembling a group of key stakeholders within an eight-mile radius to weigh in on issues like zoning and taxes. Organizers hope to begin answering some of their questions by the end of the year.
"It really sounds to me like IAA has a big idea, but getting from that big idea to a big reality is something we're going to be working through," said Avon City Planner Al Salzman.
Committees are just starting to address the challenges such cross-county collaboration will raise, but one early opportunity already has presented itself: Ivy Tech Community College plans to open a satellite campus at the airport's former passenger terminal this fall to serve both area residents and the nearby logistics industry.
"We want to work very closely with those companies to give them the type of employees that they want," said Kathleen Lee, Ivy Tech's vice chancellor of academic affairs. "We definitely know that this will be a gateway for our folks from the Hendricks County area."
Project Manager Corey Wilson said he wants significant input from the region as the airport moves forward with the aerotropolis, a term that was coined by University of North Carolina management professor John D. Kasarda, one of the local effort's advisers.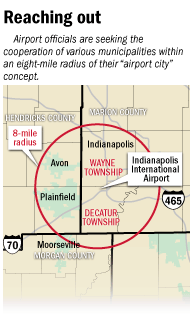 "We see this as an opportunity for an economic development catalyst for the region," Wilson said. "We want to make sure this is a true collaborative effort."
Connectivity among communities is a fundamental concept of economic development, which in this case could translate to jobs for Hendricks County, said Brad Beaudien, director of Ball State University's College of Architecture and Planning Indianapolis Center.
The region already has several logistical advantages—several interstates, the country's second-largest FedEx shipping operation and Avon's CSX rail yard among them. And if mass transit plans come to fruition, that will only help.
"Connectivity matters," Beaudien said. "Conceptually, those projects lend themselves to significant economic development."
Salzman said the Avon Town Council has unanswered questions about the project, including matters of tax incentives, revenue sharing and governance over the eight-mile zone of influence, which includes existing Avon residential subdivisions, schools, municipal facilities and utilities.
"If you put a pin on a map and draw a circle eight miles wide, we want to know what your intentions are for those areas," said Salzman, who will sit on a planning committee for the project.
Plainfield officials also want to have a voice in the planning process.
"Hopefully, there will be consensus from the surrounding areas as far as what we would like to see with the property," said Brad Dubois, executive director of the Plainfield Chamber of Commerce, "and how that would help us and our work force."
It is likely that several entities will have control over aspects of the project, which could pose challenges.
"It's hard to master-plan a development when you've got five or six different municipalities with different rules, different players and different personalities trying to come together," Beaudien said.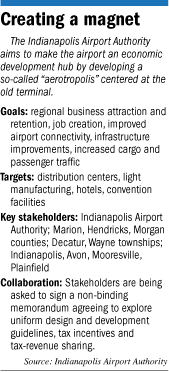 Despite the unanswered questions, Avon is hoping to capitalize on the marketing initiative that is sure to accompany a plan of this magnitude.
"As the airport expands, their auxiliary benefits flow into our county and businesses may want to come and be part of that," said Tom Downard, executive director of Avon's chamber of commerce.
Downard said Avon specifically wants to see expansions to its industrial park and development of land farther north of Ronald Reagan Parkway.
Plainfield officials are waiting for more details before they start imagining the possible benefits.
"We would like to see what they're proposing and what they think the vision is," DuBois said.
Hendricks County has collaborated with the airport authority before: In 2009, the county asked for permission to build and maintain the 210-acre Sodalis Nature Park on airport land, a negotiation that lasted about two years, said William Roche, Hendricks County parks director.
"Opening up another 210 acres of park, which is not common in our county, was an incredible benefit to us," Roche said.
He said he hopes the county continues to work with the IAA on development projects.
"Hendricks County is developing at an incredible rate and that's come at a cost," Roche said. "We no longer have acceptable or adequate space to serve our community."
Officials hope redeveloping the shuttered terminal and other airport property provides an economic boost, estimating the IND Aerotropolis project could add $180 million in lease revenue over the next 30 years.•
Please enable JavaScript to view this content.