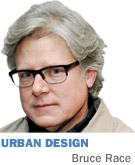 About this column: Our city's built environment is the result of both broad policies and small individual design decisions. This month, I'm discussing the connection between good urban design and the economic well-being of Indianapolis and our peer cities. In future columns, I will discuss the design of particular buildings and public spaces.
Monument Circle on a winter's night can be magical. The Circle has the social and economic gravity to be the symbolic center of Indiana. The Circle is our collective central place, our commons. As an economic developer, I would certainly bring a prospective business transplant there.
Think about your favorite Indianapolis neighborhood. Does it have a center? Does that center have an important street, public space, business or watering hole that provides social and economic gravity at a neighborhood scale?
Now, imagine a map of the city. Where would you take your prospective business transplant for a neighborhood dinner or coffee? Besides bad food and lousy service, what other factors could result in a disappointing experience? Here's my list:
• I can't find a parking space.
• The bus doesn't go there.
• There aren't any crosswalks.
• I get hassled by panhandlers.
• It is treeless, dirty and poorly lit.
• It is a boring and uncomfortable walk.
All six things are "outside the property line," that is, in public streets and spaces. Great neighborhoods with exceptional living and visiting experiences are high-performance places with accessible streets and spaces that are well-designed and -managed on both sides of the property line.
So, who is responsible for creating those spaces? We all are. We know instinctively that these favorite places create economic value and that building them requires coordinated public and private investment.
As Indy boosters, we want to nurture existing places and create new ones to grow and diversify our local and regional economy. But how do we get there? Through good urban design on a broad scale—not just for postcard places like the Circle.
Urban design is a civic enterprise that defines a community's aspirations and can bring them to life. An urban design plan allows stakeholders to imagine places that do not exist yet and provides the directions to make them come true. Urban design is a business plan for place-making.
It shouldn't be a surprise, then, that successful cities have urban design plans.
I reviewed "Top 10 cities" from four business magazines. I wanted to know if they had regional and citywide urban design policies, downtown urban design plans, design review and historic preservation commission review. I also researched each top city's commitment to developing a multi-modal transit system. Such systems generate economic development opportunities at transit stops. Here is what I found out.
• Wall Street Journal's 2009 Market Watch: Best Cities for Business Top 10 cities all have downtown urban design plans, design guidelines, preservation guidelines and design review. All but one of the cities (10th-ranked Bridgeport, Conn.) has citywide urban design policies. The WSJ cities all have light-rail transit or are planning for it. Des Moines, Iowa, was rated best for business and Indianapolis was ranked 31st.
• Kiplinger's 2011 Best Value Cities Top 10 all have sophisticated planning and urban design systems with regional or citywide policies. They have downtown urban design plans, design guidelines, preservation guidelines and design review. Charlotte, N.C., has a light-rail system and Nashville, Tenn., has bus rapid transit. With the exception of Cedar Rapids, Iowa, all the rest of the best value cities are planning for rapid transit in some form. Omaha, Neb., was ranked as the best value city, Cincinnati was 10th as an "up and coming city." Indianapolis was 33rd.
• Forbes' 2009 America's Most Livable Cities Top 10 have made a commitment to quality investment. Each has city or regional urban design policies, downtown urban design plans, design guidelines, preservation guidelines and design review. Forbes' top cities already have or are planning for comprehensive transportation systems. Portland, Maine, was top ranked for livability and Lincoln, Neb., was 10th.
• American City Business Journals' 2011 Best Places for Small Businesses lists Austin, Texas, as the best. New York City was listed 10th. The top 10 cities have urban design policies and are planning for nodal economic development around transit. Indianapolis was listed 54th of the 100 largest cities (down from 34th in 2009).
Regardless of their size and regional settings, there is a common theme among cities making the "best cities" lists: place-making is a priority. They are cities that plan for and invest in quality for the entire city. Their downtown and neighborhood places are connected physically and programmatically, providing a high quality of life demanded by people who start and run businesses—particularly the creative types that create and grow small businesses.
These are the people we want to attract. They expect more than great food and efficient service when they go out for dinner. They expect a great environment—inside and outside the restaurant.•
__________
Bruce Race, FAIA, AICP, is an award-winning architect and urban planner and owner of RACESTUDIO. He lives in a historic Indianapolis neighborhood and teaches urban design at Ball State University's Downtown Indianapolis Center. His column appears monthly. He can be reached at br@racestudio.com.
Please enable JavaScript to view this content.