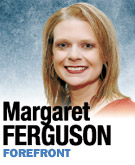 It has been a bad few weeks for Sen. Lugar. Indiana's senior senator has long been well regarded by members from both sides of the aisle. He is respected for his knowledge and leadership, particularly in foreign policy. He used to be lauded for bringing people together.
Today, rather than being elements to point to with pride, such evidence of reasonableness has become proof of weakness.
Lugar faces an opponent in the Republican primary for the first time in over 30 years. According to his primary challenger, Richard Mourdock, and Mourdock's supporters, he is not conservative enough for Indiana.
In the current more-conservative-than-thou political climate—when Republican presidential hopefuls are angling to move as far to the right of one another as possible—these attacks are not particularly surprising. What surprises me a little bit, however, is that Mourdock seems to be gaining some traction.
The senator who has barely had opposition from the other party has a serious challenger from his own party. The senator with an enviable ability to raise campaign dollars faces an opponent who is similarly (if not actually equally) well financed. Right to Life and other socially conservative groups, Tea Party organizations and the National Rifle Association have all endorsed Mourdock.
The senator has a real race on his hands.
Being a long-serving member of Congress representing a state used to be a huge net plus. Such long-term incumbency had huge electoral advantages. Greater seniority means more powerful positions and a greater opportunity to provide benefits to the folks back home.
Today, being a "Washington insider" is costly. Rather than being seen as a mark of experience, it is viewed as evidence of divided or misplaced loyalties.
The current state of political affairs, therefore, sets the senator up for a fight. But the senator has added to his own problems in ways that such an experienced politician ought not to do. He doesn't own a home or even rent an apartment in Indiana.
On the face of it, this makes sense in that he works in Washington, D.C., and has done so for over 30 years. While Lugar makes frequent trips "back home," he actually lives in the place where he works the majority of the time. Most of the rest of us do that as well, to be fair.
This residency issue has raised some eyebrows in the past (and in other states) but at base, most people understood, or at least accepted the fact that, serving in the Senate is a full-time, year-round job. And it has been a career for Lugar. Not a hobby.
Unlike the early years of the republic, people do not serve in Congress for a few years and return home to "pick up the plow." Indeed, given the level of knowledge and expertise necessary in the contemporary Congress, members have to get a few years under their belts before they can really begin to serve the home state or district effectively.
This old issue has gained new traction in the anti-Washington fervor of the day. That this residency question is politically motivated can't be questioned. The fact that it has struck a chord with voters though, remains.
The really important point here when it comes to understanding the big picture is that the anti-government mood of our politics today is shortsighted and leads ultimately to bad political strategy.
Kicking out a long-standing member of Congress who is still vigorously engaging in the job and who has been a force for leadership and unity in the country for years will not yield long-term benefits for a political party that hopes to govern in the future.
And the notion that somehow we will be better off as a country with fewer people like Lugar in Washington simply flies in the face of reason.•
• Ferguson is an associate professor of political science in the School of Liberal Arts at IUPUI with expertise in state politics. Views expressed here are the writer's. Send comments on this column to ibjedit@ibj.com.
Please enable JavaScript to view this content.