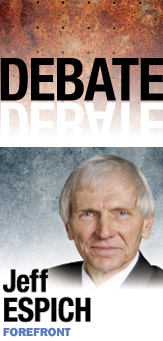 QUESTION: Having completed your final legislative session and now moving toward retirement from the General Assembly in November, what are you most proud of? Also, if you could start your lawmaking career from scratch again, what would you do differently?
ANSWER: From the time I announced I would not be seeking re-election to my final goodbye on the House floor to now, I have had some time to reflect on my 40 years of service in the Indiana General Assembly.
To be honest, when I was first elected in 1972, hardly anyone noticed me. I had no political experience and no real knowledge of how state government worked. Fortunately, I have come a long way. Over the years, I have served as chairman of three House committees and have taken on various leadership roles within my caucus.
Looking back, I wish I would have set specific leadership goals earlier in my legislative career. Had I done so, I believe I could have made a bigger difference sooner.
When I first became a legislator, it was my goal to hold fast to the values I learned as a small-business owner back home in Wells County. I believed then and still believe that hard work, integrity and honesty are the keys to success in any venture.
I also felt it was my responsibility to listen and learn from others—regardless of status or party allegiance. I think these values served me well in pursuing my overarching goal as a legislator: making Indiana a better place to live, work and raise a family.
To work toward this goal, I let my belief in the principle of limited government be my guide. When weighing important decisions, I tried always to think about how actions of the Legislature affect the individual, and when in doubt, I followed the principle that government should "do no harm."
When working on fiscal issues, I strived to follow the principle that government should, first and foremost, always live within its means.
And when working to improve Indiana's economy, I held to the principle that the government's role is not to micromanage but rather to create a climate favorable for strong economic growth.
I believe my commitment to these principles was reflected in my actions as a legislator. In 2005, while serving as chairman of the Ways and Means Committee, I authored the first honestly balanced state budget in over a decade. This same budget repaid $500 million in delayed payments owed to K-12 schools, universities and local governments.
In 2006, I worked to provide more than $2 billion in property tax replacement credits to reduce property tax burdens, which at the time was the most property tax relief ever granted to Hoosier property owners.
In 2011, I authored another fiscally sound budget that balanced the state's finances without tax increases, maintained prudent levels of reserves, and directed more funding to K-12 education.
In my final year as a legislator, I authored a bill that doubled funding for full-day kindergarten, representing the most significant new investment in full-day kindergarten in the state's history.
I have truly enjoyed my 40 years of service to the state of Indiana and its citizens. It has been a privilege to work closely with so many leaders whom I greatly admire, especially Gov. Daniels, who is the best governor in the nation.
I will miss serving the state as a representative of the people, but I know I am leaving Indiana in good hands. I will always be proud of the many things we were able to accomplish to better the lives of Hoosiers.
More important, I hope I have made a positive impact on the lives of Hoosiers. If I have accomplished that, I can leave with a smile on my face.•
• Espich, a Republican, is retiring this year from the General Assembly after having been first elected to the body in 1972. He represents House District 82 south of Fort Wayne. Send comments on this column to [email protected].
Please enable JavaScript to view this content.