I didn't hear the expression "mall pizza" until I moved to Indianapolis. The intention of the expression was to denigrate such seemingly interchangeable eateries as Villa Pizza, Luca Pizza di Roma, Sbarro's, etc.—places where you parade past a showcase window of pies and calzones, shout your order, and have slices pulled from the display to be heated and delivered down by the cash register.
Such negativity had its effect. And it took me a long while to admit that I preferred such slices to most of what passes for pizza in more respected venues.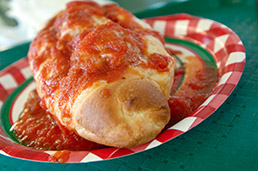 Messy meatball sandwiches have been added to the Mauricio's menu at City Market. (IBJ Photo/ Perry Reichanadter)
Still, on my frequent trips to City Market this month, I almost bypassed Mauricio's Pizzeria because it seemed like a standard-issue "mall pizza" place, even if City Market hardly qualifies as a mall.
As it turns out, though, the non-chain Mauricio's (222 E. Market St., 423-2920) does a more than respectable job of delivering Italian staples at a reasonable price—which makes it an essential ingredient in the overall market mix. It may resemble its mall brethren, but it does what it needs to do well, if without surprises.
For pizza, you can go with a substantial New York-style cheese slice ($2.80) or expand to such regular Gourmet slices ($3.90) as the Hawaiian (ham, pineapple and bacon) or the Greek White (onions, tomato, olives, feta). Either way, you get well-balanced toppings, ample mozzarella, and a foldable crisp-but-not-too-crisp crust. Calzones ($5.35) are hefty and packed with meats and veggies, with a choice of four sauces. Breadsticks are long and thin and rolled in a buttery twist ($2.50 for two/$3.40 for four. There's an upcharge if you want them stuffed with pepperoni or cheese.).
There's pasta, too, with lasagna, spaghetti, rigatoni and fettuccini variations on the menu. Combos make it all the more affordable, bringing lunch with a drink only into the $6.20 to $6.99 range).
My only disappointment? Mauricio's doesn't deliver. Yet.•
–Lou Harry
__________
Fourth in a month-long series of reviews of eateries in and around City Market.
Please enable JavaScript to view this content.