Indiana enjoyed a pleasant winter and spring, but it should still expect to join the rest of the nation in the dog days of summer.
That's the forecast, not of local meteorologists, but of economists who study the state as they look toward the next state jobs announcement due July 20.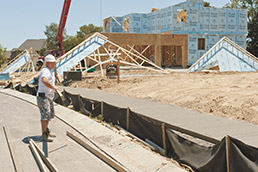 Jordan Puckett works on a Fishers new-home site for Ryland Homes. Construction employment in the Indianapolis area has surged by 8,000 jobs in the past year. (IBJ Photo/ Perry Reichanadter)
Hoosier employers added jobs faster than those in all U.S. states except two through the end of May, according to federal estimates. That's largely because Indiana's bread-and-butter industries that have long been under stress—particularly housing and autos—are showing increasing strength.
But an index of leading economic indicators flattened out in June—auguring the same kind of stall that beset the economy the past two summers.
"There are definitely quite a few headwinds out there. Indiana doesn't really escape any of those," said Richard Kavcic, an economist at BMO Capital, which issues reports on Indiana and other states in which it has a banking presence.
For the past year, Indiana has been able to add jobs—and grow wages—faster than the rest of the country. There are still 99,000 fewer Hoosiers employed now than in December 2007, when the recession started, but recent growth has been accelerating here even as it has slowed nationally.
However, Kavcic attributed some of that outperformance to a recovery from 2011, when the massive earthquake in Japan disrupted the supply chains of Indiana manufacturers—causing a major pause in their business.
Mike Hicks, an economist at Ball State University, said he thinks Indiana's low-tax, low-regulations business environment—which also appears to be stable politically—has been helping the state add an outsized share of the nation's jobs.
But going forward, he, too, expects Indiana to fall in line with the rest of the country.
"At some point, a great moderation has to occur," Hicks said, adding, "All signs point to the U.S. either in or at the precipice of a recession. No state our size has been able to dodge a recession."
The biggest cloud on the horizon for Indiana is Europe, where most countries have tipped back into recession. Of Indiana's $29 billion in annual exports, 25 percent go to European countries.
"The troubles across the pond could have a significant effect on Indiana's economy," noted the team of Indiana University economists that publishes the Leading Index for Indiana.
After nine months of gradual growth, the index remained stuck in June at the same level it was in May—99.5. The index measures national activity in manufacturing, especially auto manufacturing, housing, transportation and banking—industries that are especially key to Indiana's economy.
The banking crisis in Spain—which could force the Spanish government to seek a bailout from other countries—is particularly bad for Indiana companies, since exports there had been growing at a 20-percent clip until last year.
Also, 8 percent of Hoosier exports go to Brazil, China and India, where fast growth has been cooling.
The potential slowdown in exports didn't stop Roche Diagnostics Corp. from committing to add 100 jobs in Indianapolis over the next five years, mostly to help it produce more test strips for the blood glucose monitors it sells around the world.
Roche's global sales of its diabetes products grew 2 percent last year. North American sales of all its diagnostic products, which are handled out of the Indianapolis office, grew 4 percent last year.
"This is really to help us continue that growth and sustain that growth," said Tom Adkins, site manager of Switzerland-based Roche's Indianapolis campus.
However, other exporters of life sciences products have seen conditions deteriorating in Europe. For example, in the three months ended May 31, Warsaw-based Biomet Inc. saw its volume of sales in Europe drop 2 percent.
What is going well for Indiana is its auto sector. Americans are on pace to buy 13.9 million cars this year, about 1 million more than they did last year.
That trend is spurring hiring at automakers and auto parts suppliers. For example, the Japanese-owned NTN Driveshaft plant in Columbus and BRC Rubber & Plastics Inc. in Churubusco—both makers of auto parts—each promised to add 50 jobs over the next 18 months.
Overall, auto manufacturing employment in Indiana has risen by 2,800 jobs in the past 12 months, according to the latest figures from the U.S. Bureau of Labor Statistics.
"The fact that the auto sector fundamentals are improving is good news for the local economy," said Kavcic, the BMO Capital economist.
The Indianapolis area, however, could use a bit more good news. Job growth here ended in May. The metro area still employs 25,000 fewer people than it did before the recession.
Perhaps the most encouraging sign for the Indianapolis area is the rebound in homebuilding. Employment in construction has surged 8,000 in the past 12 months. And employment in real estate has risen by 1,400 jobs.
"I think we can all say the bad times are behind us," said Alan Goldsticker, president of Ryland Homes of Indiana. "We're buying land. We're preparing for growth."
California-based Ryland has added five salespeople this year to keep up with growing demand, and its subcontractors have added far more jobs than that.
Barring another shock to consumer confidence, Goldsticker said he expects the housing market to provide a modest boost to the economy for the foreseeable future.
"The economy is not perfect at this point and it's not where you need it to be, but people are feeling better," he said. "I think that's why we're feeling that difference."•
Please enable JavaScript to view this content.