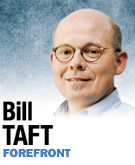 The disagreement between Mayor Ballard and City-County Council Democrats over the use of tax increment financing sounds like a wonky tax policy debate, but behind this conflict are far more fundamental questions of how we use our city's resources to prepare for its future.
Do we carefully hoard our shrinking property tax base to serve our growing local government needs, or should we leverage our assets to create economic activity that could dramatically increase future tax revenue?
While TIF policy details can be debated, it is increasingly clear that building a viable economic future for Indianapolis requires that we use tools like TIF to lay the groundwork for expanded economic activities.
The districts in their simplest form capture future increased tax revenue that will flow from a new development to fund the public components of that same development project. It was first deployed in Indianapolis in the 1990s for projects like Circle Centre mall and has grown in importance as a financing tool for a range of projects around the city, with a high concentration of them downtown.
Critics complain that TIFs prevent the increased taxes from these new projects from flowing to existing tax-supported uses like public schools, libraries and public safety.
Why has TIF financing become more common? Simply because Indianapolis faces growing redevelopment challenges as its traditional sources of local and federal tax revenue shrink. State property tax caps combined with declining assessed property valuation of Marion County have resulted in lower tax revenue. It seems unlikely given its growing deficits that the federal government will provide funds to make up for declining local funds.
Indianapolis faces the obvious need to retool downtown, neighborhoods and commercial/industrial areas to compete regionally, nationally and internationally for economic development. The only real opportunity to generate greater tax revenue is to leverage investment into improving existing neighborhoods (raising assessed values), and attracting more highly skilled residents who will generate more income taxes.
For example, without past TIF-funded investment downtown, Indianapolis would not have been able to finance the downtown amenities that have attracted a growing number of conventions, sporting events and, ultimately, the Super Bowl.
Concentrated redevelopment investments must now move outward from downtown into surrounding neighborhoods and industrial areas if Indianapolis is to compete regionally and globally. This will take private investment that could be attracted if we invest short-term tax revenue into leveraging big changes through TIFs.
Think of our city as a 48-year-old union assembly line worker named Carl who was just laid off from a shuttered GM plant. Carl's high school diploma and skill set will not get him a job that will fund college for his kids and a comfortable retirement. Carl faces the choice of immediately taking a job in another factory offering lower wages and limited benefits or dipping into his savings account and taking a year off to obtain a certification in high-tech manufacturing machinery operation.
While giving up short-term pay is risky, the only way Carl will be able to meet his financial goals is to use his savings to retool himself into a higher-skilled, well-paid worker. Few would argue that Carl should just take the safe but low-opportunity job today instead of taking the risky step of going back to school.
The citizens of Indianapolis have dreams of what our city can become in spite of our challenges. Are we willing to invest in this future by tightening our belts and taking some risk today? If so, strategically using TIF to remake our city into the competitive place it needs to be seems like a wise move.
I hope the mayor and the council can work through their differences to accelerate investment in our future.•
• Taft is Indianapolis executive director of Local Initiatives Support Corp., a not-for-profit that invests in neighborhood redevelopment projects. Send comments on this column to [email protected].
Please enable JavaScript to view this content.