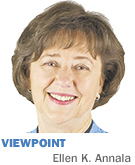 Make it personal. That was the message former United Way campaign Chairwoman Barbara Henry drove home to me the year she volunteered to lead our community fundraising effort. So when I sat before a blank page to write about why mass transit matters, I heard Barbara's voice.
Let me tell you about Ralph. Ralph is among 78 percent of IndyGo riders who have no vehicle available, 65 percent who are employed, and 70 percent who earn less than $25,000 a year.
We met Ralph when he agreed to tell his story as someone helped by a United Way agency, Hoosier Veterans Assistance Foundation of Indiana.
An Air Force veteran, Ralph became chemically dependent, unemployed and homeless. At the same time, he was a man in our community who had been struggling mightily to become "self-sufficient." It's a phrase you hear tossed around a lot—often by people who have never met a Ralph and have no idea how tough that path is.
As part of Hoosier Veterans' recovery program, and with the help and support of many, Ralph turned his life around. Now, two years later, he is working, living in an apartment, and has regained custody of his 6-year-old daughter—from a judge who said he had "no doubts" about the decision. His daughter is the apple of Ralph's eye and the purest inspiration for self-sufficiency imaginable.
If Ralph's path to self-sufficiency were not already hard enough, add to it daily transportation challenges. Most days, he takes four bus trips. But whenever he needs to be anywhere but work, Ralph must take up to eight bus trips to navigate the business of life.
You will hear proponents of mass transit talk about it as an economic development issue and a regional competitiveness issue. You will hear them talk about it as a quality-of-life issue with environmental implications. All those arguments are true. But I will forever picture it as a Ralph issue—a story of how integral transit is to helping people achieve self-sufficiency, maintain it and pass it on to their children and their children's children.
The best way to help struggling people is to help them get work. In my more than two decades at United Way, access to reliable transportation has consistently been identified as a barrier to people searching for, getting and keeping jobs; pursuing education and training; using child care; getting vital medical care; pursuing opportunities for youth; and, more fundamentally, simply participating in the community's civic life.
I don't know anyone who thinks keeping people in poverty is what we're aiming for. Regardless of how elected officials address the transit issue, United Way and our community's human care system will continue to help people who are struggling to survive get by day to day. Don't we want more? And let's be honest. If people can't get to work, talk of self-sufficiency is only talk.
If you agree, commit to more than talking about self-sufficiency as a value. Make it personal. Please let your elected officials know that you support mass transit.
United Way's board made its support official. It passed a formal resolution encouraging the Legislature to authorize voter referendums to fund the design, construction, financing, operation and maintenance of mass transit. To use your voice, visit uwci.org and click on "About," then "public policy."•
__________
Annala is president and CEO of United Way of Central Indiana. Send comments on this column to [email protected].
Please enable JavaScript to view this content.