the city's land bank must compete in a sealed-bid auction and meet a minimum bid set by an appraisal.
But state law allows not-for-profits to purchase county-owned properties without an auction. The law was designed for community development corporations, though other tax-exempt groups including churches also have bought properties.
Homeless & ReEntry Helpers was the first to take advantage of the loophole on such a large scale, but a few copycats have tried to cash in.
Bob Nice, a veteran Indianapolis real estate attorney and investor, said he had several property investors approach him late last year about setting up not-for-profits so they could acquire tax-delinquent homes with ease. He declined to help them, concerned the purported charitable goals might not hold up to IRS scrutiny.
The city requires not-for-profit buyers sign an eight-page purchase agreement that gives them three years to fix up a property or surrender it to the city. CDCs, traditionally the largest buyers, own hundreds of properties and often take advantage of the full three-year term.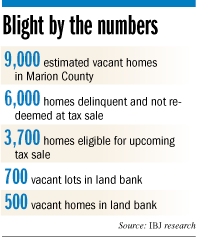 Homeless & ReEntry Helpers gave its investors just one year before taking properties back and looking for other investors to finish the work, Hawkins said. The organization keeps titles until houses meet federal low-income housing standards.
Buyer beware
Several of the properties Homeless & ReEntry Helpers acquired and flipped have been sold again, in most cases to out-of-state investors.
The most prolific seller to date has been Adams, who bought 40 homes and has resold at least 10 of them, mostly through a company called Lawrencia LLC. (Lawrencia principal Cleve Brown is a partner with Adams in locally based Alpine Property Management.)
Adams bought the properties from Homeless & ReEntry Helpers in November 2011, paying $7,500 apiece, records show. He began selling them in February, collecting prices ranging from $63,500 to $81,500.
In each case, the sale price exceeded the assessed value.
Tennessee resident Phyllis Craighead, who owns a day care center, used assets from her individual retirement account to buy the three-bedroom, one-bathroom 1960s house at 1837 Albany St., sight unseen. She paid $71,500.

The deal was the culmination of her participation in a real estate investing program offered by Armando Montelongo, the former host of the A&E reality show "Flip This House." Craighead traveled to Los Angeles, Las Vegas and Indianapolis for courses on various real estate investing tactics.
She recalls selecting the Albany Street house from a series of fliers touting available properties in November 2011, the same month Adams bought the property from Homeless & ReEntry Helpers. When she asked about comparable sales for the area, she was told there were none, she said.
It took more than three months for the deal to close, so Alpine—which manages the property for a fee of 10 percent of the rent—agreed to cover some of the closing costs to compensate for lost rental income, Craighead said.
She was told the house already had tenants. (It wasn't clear when they moved in; Indy Land Bank as a matter of policy can only acquire or sell vacant properties.)
But a few months later, the tenants stopped paying rent and had to be evicted.
Alpine sent her bills for $1,000 to paint and clean the house to prepare for new tenants, $400 to replace a stolen stove and refrigerator, and more than $400 to repair a gas line, she said.
New tenants have moved in, Craighead said, but she's still underwater on expenses versus income. The property flier suggested she would bring in more than $500 per month on the property, which rents for about $700.
"I'm of course not happy, but it might just have been ignorance on my part," she said. "They've assured me this is unusual."
In an interview, Adams said he made a lot less money on the deals than property records indicate.
The recorded transactions don't reflect payments he made to Davis, the former Davis Homes CEO who was a silent partner in the deals. Davis paid Hawkins directly for homes, and Adams would return his principal plus a profit after reselling them. Neither would divulge specific amounts.
Adams said he also had to pay undisclosed fees to a real estate seminar company and a California marketing firm to pitch his properties to enthusiastic out-of-state investors. All told, he said, his basis on each property was about $20,000, before the cost of renovations.
Adams said he made $8,000 to $10,000 in profit on each property, which he considers a reasonable sum based on the estimated 10 percent or higher annual returns his investors stand to earn from owning the rental properties.
Admitting mistakes
Chad Lethig, the Indianapolis Preservation Coordinator for Indiana Landmarks, did a double take when he heard about the bulk sale to Homeless & ReEntry Helpers at a Metropolitan Development Commission meeting last year.
His own more-established organization was having trouble getting control of abandoned historic propertiesfor which it had lined up investors to rehabilitate. It eventually secured about 10 but would have bought several more.
Lethig said it seemed "curious" that another organization could acquire so many properties at a time Indiana Landmarks was giving its investors bad news.