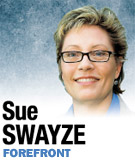 The details of the Kermit Gosnell trial in Pennsylvania are gruesome, yet they signal a warning to all states. Abortion is an industry, not just a political or religious issue.
Abortion has a mystique that makes just talking about it being political. Taking sides. But the horrific facts surrounding this late-term abortionist, who killed a woman in his care and several babies born alive and squirming on his table, show that while abortion is legal, it should not go without oversight and compliance with licensure and health regulations.
When the pro-life side calls for stronger enforcement, it isn't necessarily being political. Have you heard that old saying about paranoia: "Just because you think they're after you doesn't mean they're not?" Assuming that demands for health and safety measures for women seeking abortions are political posturing can prove deadly.
The Gosnell case forces the question of why the Pennsylvania Department of Health didn't inspect the facility for 17 years.
Nationally, Planned Parenthood has a strong corporate brand. While that doesn't suggest it needs less oversight than independent operators like Gosnell, what pundits often overlook is that the independent abortionists never stand with Planned Parenthood in the public square when it objects to stronger health and safety standards. They fly under the radar.
Naturally, this leads to the question of whether killing a baby months before birth, seconds before birth (late-term abortion), or after it is born alive (Gosnell's crime) is still killing. Where is the line?
Supreme Court Justice Ruth Bader Ginsberg, arguably the most pro-choice justice, said recently she wished her predecessors had not handed down such an expansive decision in Roe v. Wade, allowing greater change to bubble up via the political process at a time states were expanding abortion rights. Today, she said, Roe has given anti-choice advocates a target to shoot at relentlessly. And, according to the National Abortion and Reproductive Rights Action League and Time Magazine, pro-lifers are winning.
Yet there is a policy frontier that has suffered at the hands of state administrations (Democratic and Republican) afraid of the "politics" of abortion.
After Gosnell, states should expect questions about their adherence to laws and regulations on abortion businesses. Do they require the same medical standards expected in the general medical marketplace? Are they enforcing applicable laws and regulations? Is there protection for women who, understandably, won't file complaints like other types of medical malpractice?
Do ER doctors and OB/GYNs who see patients after botched abortions file complaints with the licensing board so that women seeking future abortions are safe? And is the board investigating?
The intent of Roe was to make abortion "safe and rare," but after Gosnell's staff testified to his horrors, clinic staff in various states are speaking out about their bosses: Kapen in Houston, Carhart in Maryland (and Indiana), Goei in California, and Riley in Maryland. Plus, we now know of the LiveAction video stings in 20-plus states and other tragic stories never told by the mainstream media (which ignored the Gosnell story until it blew up).
Abortion may be legal, but that doesn't mean we can't hold clinics accountable for health and safety requirements necessary to protect women's health. Planned Parenthood—in my youth a place to get birth control so your parents wouldn't find out—has turned into a big business, aborting the majority of 9,112 Hoosier babies last year while making millions in abortion revenue in the process.
Abortion has become an industry right under our politically frightened noses. It's time we treat it as one.•
__________
Swayze leads the Indiana Family Institute's Hoosier Congressional Policy Leadership Series and has held numerous lobbying positions with not-for-profit organizations. Send comments on this column to [email protected].
Please enable JavaScript to view this content.