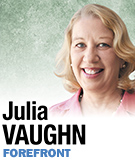 One of the most controversial proposals to emerge at the 2013 General Assembly has resurfaced as the topic of a summer study committee. Late last month, the Interim Study Committee on Economic Development focused on ag gag legislation that would make it a crime to expose illegal, inhumane or unsafe conditions at factory farms in Indiana.
This sends a clear message to those of us who care how our food is produced: It's none of your business.
Ag gag laws are designed to prevent the public from knowing what goes on at factory farms, and are particularly disturbing because they are a proactive and pre-emptive attempt by agribusiness to avoid public scrutiny and accountability. The obvious question is, what do these mega farms have to hide?
While I'm not accusing the livestock industry of widespread illegal activity, all industries have bad actors. Ag gag laws protect unscrupulous operators and will make the job of already understaffed regulators at the Indiana Department of Environmental Management and the Board of Animal Health even more difficult, since they often rely on whistleblowers and reporters to be their eyes and ears.
What is really prompting this effort is the fear that the public will get a clear view of everyday operating procedures at factory farms, which disturb many and cause some consumers to alter their buying behavior. For example, cramming pregnant sows into small gestation crates is not illegal, but after the practice was exposed via an undercover report, many consumers voiced their concerns and efforts to ban the practice have followed.
More exposure of the inhumane conditions commonplace in factory farm settings is a major reason meat consumption has dropped 12.2 percent in the United States over the past five years and why the number of small, sustainable livestock producers has risen dramatically. Factory farms and their lobbyists are fighting to maintain their market share with these ag gag laws.
In addition to being bad public policy, this legislation is unnecessary. Laws already on the books protect factory farm operators from trespassers, activists infiltrating their operations posing as workers, and libel. Adding ag gag to our statute gives factory farms and all industrial operations special rights under the law at the expense of all workers and consumers.
Let's not forget that it was Indiana cantaloupes that sickened hundreds of people and killed three just last summer. We certainly don't need to create a system with even less scrutiny.
In my last column, I wrote about the American Legislative Exchange Council, the corporate-funded not-for-profit that wields tremendous clout in legislatures across the nation, including Indiana.
ALEC has been extremely active promoting ag gag legislation, but it has another name for it. According to ALEC, we shouldn't fear a food production system cloaked in secrecy, but should beware the scourge of "animal and ecological terrorism."
In ALEC's world view, animal rights and environmental activists are "terrorists groups like Al Qaeda." One of the bills filed in Indiana makes the over-the-top statement that farmers have the right to "engage in agricultural operations free from the threat of terrorism and interference from unauthorized third persons."
Our nation has a long history of whistleblowers' being the catalyst for systemic social change, so it is disturbing to see corporate interests attempt to redefine this role as terrorist activity.
In 2014, the General Assembly should reject big agriculture's ploy to protect profits by keeping the public in the dark.•
__________
Vaughn is policy director for Common Cause/Indiana, a nonpartisan citizens lobbying organization that works for open, honest and accountable government. Send comments on this column to [email protected].
Please enable JavaScript to view this content.