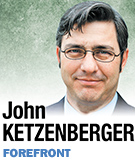 John and Hank Green, also known as the Vlogbrothers, exchange videos with each other twice a week. Sometimes the videos are funny and sometimes they're serious, but they're usually thought-provoking.
John, the Indianapolis-based brother and author, has spent a lot of time lately relaying his experiences on the set of "The Fault in Our Stars" movie based on his best-selling novel. Hank, who lives in Montana, earned degrees in biochemistry and environmental studies and applied his smarts to a variety of Internet-related ventures.
I'm glad the brothers let me listen in with a few hundred thousand others on their Vlogbrothers Channel on YouTube. So, before we get to the point here, you might check out a couple of videos that, as my Grammy Miller used to say, got me to thinking.
Hank Green's video is here: http://www.youtube.com/watch?v=-kQ1Po7vzUk and John Green's video is here: http://www.youtube.com/watch?v=W_731GRjCCI.
Now that's eight well-spent minutes, but many of you don't have access to YouTube right now, so here's the point. Hank posits in his video, which is a recap of a trip he made with friends to San Francisco's Imaginarium, that curiosity is the most important human trait.
As brothers are wont to do, John disagrees in his reply, which otherwise is a question-and-answer session about "The Fault in Our Stars."
Hank: "The desire to know and understand, and seeing the world as a puzzle that's begging to be solved is just really lovely."
After describing his creative process, he adds, "If I could share that feeling and put it out there in the world and have more people who are curious, more people who see the world as that kind of puzzle, more people who want to know for knowing's sake, I think that that's a real good path for the world to be walking down to be a better place in the future."
If I may summarize, curiosity may kill the cat, but its potential to serve humanity is limitless.
Yet John, who spent the last six weeks watching top-notch filmmakers transform his book, thinks the human urge to collaborate is what sets us apart.
"I never really understood how all those people who are listed at the end of the credits are absolutely vital to the creation of a movie," John says. "That massive collaboration involving hundreds of people is what makes movies possible.
"It's also why I would argue that curiosity is not the most important human trait, the urge to collaborate is. Hank, I would argue that lots of animals are really curious, but only we have the ability to cooperate, to make like online communities and space telescopes and Imaginariums and movies.
"So the great thrill of this whole experience for me was seeing humanity do what I think it's best at, which ultimately is not competing, but cooperating. Although of course we compete a lot. So yeah, Hank, I disagree with you. I think it's cooperation, not curiosity."
In other words, curious cats can be herded to realize their potential through collaboration.
Look, this might seem obvious to those of you who made it this far. Yes, the Greens' demographic skews much younger and less experienced than most of us here.
Still, I offer this as a mental exercise and a reminder that it's never too late to reconsider our preconceived notions or assumptions.
Or to be curious collaborators.•
__________
Ketzenberger is president of the Indiana Fiscal Policy Institute, a not-for-profit dedicated to non-partisan research into the state's tax policies and budget practices, and tweets at @JohnKetz. Send comments on this column to [email protected]
Please enable JavaScript to view this content.