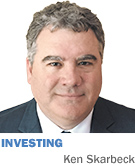 A fascinating story of high-stakes political and financial intrigue will play out in the courts and the markets over the coming years.
One major item of unfinished business left over from the credit crisis has been what to do with mortgage giants Fannie Mae and Freddie Mac. The firms became wards of the state in September 2008 when they were placed into government conservatorship.
Taxpayers ended up pumping $187.5 billion into Fannie and Freddie to keep them afloat. The bailout terms required the firms to pay a 10-percent dividend to the government every year before any of the firms' existing preferred and common stock received value.
In August 2012, Treasury revamped the terms of the bailout, with a provision that eliminated the 10-percent dividend and instead required all profits of the firms to be "swept" to the government.
In 2012, Fannie and Freddie had started making money again as the housing market rebounded and losses in their mortgage portfolios reversed. Last year, the firms generated massive profits to the tune of $84 billion and $48.7 billion, respectively. By the end of this month, the firms will have returned $203 billion to taxpayers.
In the meantime, several hedge funds began acquiring both the preferred shares and common stocks of Fannie and Freddie. These shares were still publicly traded at zombie-like prices of 25 cents per share as recently as a year ago due to the stock market's perception that the firms had no value. Nevertheless, firms like Fairholme Capital Management, Perry Capital Management and Pershing Square built significant positions in the stocks.
The hedge funds have sued the U.S. government claiming the provision eliminating the 10-percent dividend was illegal. If they win in court, earnings in excess of the 10-percent dividend requirement would flow into Fannie's and Freddie's coffers, thereby creating significant value for their preferred and common shareholders. Bill Ackman at Pershing Capital estimates a legal victory would mean common shares worth 10 to 15 times current value.
However, cold water was thrown on the hedgies last week when the Senate unveiled a 442-page bill that would eliminate Fannie Mae and Freddie Mac. Under the Senate plan, a new system would be installed with a regulator called the Federal Mortgage Insurance Corp. The agency would approve private firms that would pool mortgages into securities and purchase mortgage insurance.
If the private firms were to suffer a 10-percent capital loss, the FMIC would then provide backstop insurance. Essentially, the mortgage industry would function much like the Federal Deposit Insurance Corp.
The Senate proposal hammered Fannie's and Freddie's common stocks down to about $3 per share from $5.50 in March.
While both sides seem to have reasoned arguments, it would seem unwise to bet against the government. Yet, the Senate proposal faces numerous hurdles both in the House and within the colossal mortgage industry.
Finally, there is the never-ending argument that the government should not be involved at all in providing a backstop to either the mortgage or banking industries. Should be interesting to watch.•
__________
Skarbeck is managing partner of Indianapolis-based Aldebaran Capital LLC, a money-management firm. His column appears every other week. Views expressed are his own. He can be reached at 818-7827 or [email protected]
Please enable JavaScript to view this content.