The Carmel Redevelopment Commission is accepting offers for an undeveloped parcel of land in the city's resurgent Old Town neighborhood.

Owned by the city since at least 2007, the 0.87-acre property is located at the end of 7th Street NE, just east of 2nd Avenue NE—and directly north of a planned expansion of the growing Blackwell Park subdivision.

As IBJ reported last year, upstart Old Town Design Group is transforming residential areas near the city's Arts & Design District, building $450,000 to $700,000 homes that pair classic architecture with modern-day amenities.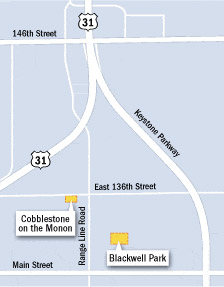 Buyers snapped up all 17 lots in the initial 5-acre Blackwell Park "pocket neighborhood," and now Old Town's development arm is planning to add another 19 lots on 4.4 acres northeast of the corner of 5th Street NE and 2nd Avenue NE.

Carmel Plan Commission is scheduled to consider the project next week, and the city's Board of Zoning Appeals will weigh related development-standards requests when it meets May 27.

The city-owned land is not included in the current plans, but that could change if Old Town Development—or its Blackwell Park Development Partners affiliate—submits the winning bid.

Company principal Justin Moffett did not immediately respond to an inquiry from IBJ, and CRC Executive Director Corrie Meyer said she cannot comment on prospects for the property during the public offering period.

CRC's "Notice of Sale" lists a minimum price of $203,750 and some clear expectations: The 0.87-acre parcel "shall be used" to extend 7th Street NE (and provide future north-south access to it), to provide storm water management for properties to the west, and to develop a pocket park open to the public. Sealed bids will be opened June 18.

Public records show Old Town already plans to extend 3rd Avenue NE north by about 600 feet to serve the second phase of Blackwell Park.

And during a preliminary meeting last month, a city official reminded the developer that "if the area to the north gets added" and the expansion area exceeds 5 acres, Blackwell Park would be subject to open-space requirements that apply to large subdivisions. Adding a park could satisfy that obligation.

City Council transferred the vacant property to CRC in April to handle its disposition, but members must agree with the redevelopment panel on an acceptable sale price. Meyer said the CRC will keep the proceeds to fund redevelopment activities.

The cash-strapped redevelopment commission is "not committing to make any contribution to, or investment in, the parcel," according to the offering document.