Indiana University Health wants to consolidate its University and Methodist hospitals into one downtown location, a plan that would see one or both facilities close or be converted to another use.

A working team of IU Health employees was scheduled to meet June 19 for the first time to flesh out a consolidation plan aimed at cutting costs and treating more patients outside hospitals. The team of more than 20 people is expected to present recommendations to the IU Health board of directors in the fall.

IU Health officials said they have yet to determine how soon the consolidation could occur, suggesting it's a long-term plan.

Curtright
But some consolidation is already happening. On July 1, the emergency room at University Hospital on the IUPUI campus will close and be merged into the ER at Methodist, which sits 1.5 miles away at the corner of 16th Street and Capitol Avenue.

"We're going to have one adult academic health center," said Jonathan Curtright, chief operating officer of University and Methodist hospitals. "The logic of this is that we need to best utilize our resources. We need to have fully utilized facilities."

Curtright said the working team would consider three options—either merging University Hospital into Methodist, merging Methodist into University, or else merging the two hospitals into an entirely new location, which would still be downtown.

He emphasized the long-term nature of the working team's discussions. There is no timetable yet for consolidation.

"We are going to be analyzing our clinical model of care, coming up with what makes sense for the next 50-plus years," he said, noting that IU Health's missions of medical research and training of new doctors and nurses would also be considered. "These decisions that we're making have very, very long tails to them."

'Dramatic action'

Recent changes in the health care sector are pushing most large hospital systems to look for "dramatic" ways to reduce the cost of their operations, said Mark Grube, a hospital consultant at Illinois-based Kaufman Hall & Associates, who spoke generally about hospitals but would not comment on the IU Health situation directly because his firm works for IU Health on other projects.

"You can only do so much by working around the margins. It really requires more dramatic action," Grube said. If a hospital system consolidates two hospitals into one, he added, "The savings can be absolutely enormous—tens if not hundreds of millions of dollars over time."

IU Health officials declined to give an estimate of the savings they expect from consolidating University and Methodist hospitals. Methodist opened in 1908, and University opened in 1970.

Grube said most of the savings would likely come from eliminating duplicated equipment, buildings and the support staff needed to run them. The impact on clinical staffing would be more muted.

According to 2012 data, IU Health's three downtown hospitals–Methodist, University and Riley Hospital for Children–had more than 1,400 inpatient beds among them. They operated at about 66-percent capacity.

But the number of patients coming to those facilities began to decline last year, leading IU Health to lay off 746 workers from its downtown hospitals as well as its employed physician practices.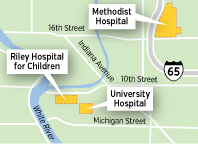 Declining patient visits is a trend that's hitting nearly all hospitals, for a variety of reasons. Some cite the deep 2008 recession and slow recovery. Another factor is changes in technology and medical practice, which allow more and more health care to be delivered outside of hospitals and even outside of doctors' offices.

Some cite the increasing prevalence of high-deductible health plans at employers, which make consumers more price sensitive on care. Some cite the impact of Obamacare and reimbursement cuts passed by Congress that have hit hospitals hard.

Other health care observers say that lull in demand is temporary and historical patterns of growth will resume soon. But almost no one thinks the declines in inpatient hospital visits will reverse.

Grube, the Kaufman Hall consultant, predicted that 15 percent to 20 percent of inpatient hospital visits will disappear, at least in most hospital markets, in the next three to five years.

Those declines will happen because as many as 15 percent of the patients currently going to hospitals have conditions that are called "ambulatory-sensitive," which means their conditions could have been handled in doctors' offices or outpatient centers, if they had been caught earlier.

In addition, as many as 15 percent of patients stay in a hospital only one day, and a good chunk of them could probably be treated in other health care settings, where costs are lower.

IU Health officials are, in fact, trying to do exactly that.

"As the health care environment is changing, we as a health system need to look at less hospital-centric ways to provide care," said Scott Black, IU Health's vice president of strategy and market development.

Challenges ahead

Ed Abel, a hospital accountant at Indianapolis-based Blue & Co., said it's smart for IU Health to start looking at consolidation now.

"When you have all those [services] a mile or mile and half apart from each other, duplicated, and it's one organization, it would make sense to say, 'How can we try to bring these together?'" he said. "They're not being forced to do this. But if they wait five years, they would be forced to do it."

Consolidating University and Methodist won't be easy, Abel noted. IU Health is a not-for-profit joint venture between the Indiana University School of Medicine and Methodist Hospital. Since those two entities merged their hospitals in 1997, there have always been rivalries between the two, although they have ebbed with time.

"Why didn't it happen before now? It couldn't happen before now. There were too many constituencies from the old IU or Methodist," Abel said.

IU Health employs 3,200 people at Methodist and 1,950 at University. IU Health officials declined to say how much money they could save by combining the two hospitals or to what extent savings would require staff reductions.

IU Health is a massive organization. Statewide, it operates 18 hospitals and employs 29,000 people, including 1,500 physicians. Its 2013 revenue was $5.2 billion.

Its decisions will have to consider the relationship of its downtown hospitals to all its other facilities; its partnerships with the medical school, Eskenazi Health and Veterans Affairs hospital; the age of the equipment and buildings at University and Methodist hospitals; as well as what to do with the facilities if one of them closes.

Just merging the University and Methodist emergency departments was complex. IU Health planned to do it a year ago, but had to put it off until now.

IU Health spent the past six months working on the transition, which included finding positions for the five full-time physicians and 30 other employees that staffed the University ER.

Of the 15,000 patients who visited University Hospital's ER last year, IU Health estimates that half could have been handled by the various clinics that operate out of the hospital. Another 2,500 could have been admitted directly to University. The other 5,000 or so could have been directed to Methodist, which has a massive ER that sees 105,000 patients each year.

To handle those transitions, University Hospital will station an ambulance outside the hospital to transport any patient that arrives needing emergency care. It will continue to have rapid response teams at University Hospital to assess patients.

But it makes good sense medically to consolidate ER patients in one location, Curtright said. Medical staff members who see lots of the same types of patients tend to produce the highest-quality care.

In addition, high volumes of patients mean lower per-patient costs, since the cost of buildings and equipment is spread over more patients. Curtright noted that IU Health spends twice as much per patient at the Unviersity ER than it does at the Methodist ER.

"This is something that we think is not only a good clinical decision, but is also a good business decision," Curtright said, noting that IU Health will save $4 million from consolidating the ERs. "It will be a significant savings to us as an organization."•