The Fort Harrison Reuse Authority is embarking on its latest project—a roughly 70-lot residential development—in the Village of Fort Harrison.
The reuse authority received approval July 9 from the Metropolitan Development Commission's plat committee to re-plat nearly 9.2 acres near East 56th Street and Post Road.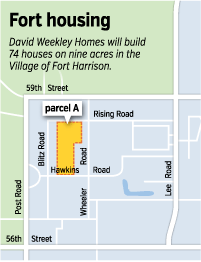 Houston-based David Weekley Homes is set to buy the lots and build the houses on a parcel bounded by Hawkins Avenue to the south, Rising Road to the north, Birtz Road to the west and Wheeler Road to the east. The property sits just west of the Triton Brewing Co., which opened in 2011, and is part of about 50 acres the reuse authority hopes to sell.
Dubbed Residences of Lawrence at Fort Ben, the proposed subdivision would be the first single-family project as part of the ongoing redevelopment of the former Fort Benjamin Harrison army base that closed in 1995, said Freddie Burrus, executive director of the reuse authority.
"It will bring unbelievable traffic and density," he said. "We're talking about 74 families that will have a major impact on what we're trying to do."
That means establishing the Village of Fort Harrison as a place where residents can live, work and play, Burrus said.
Homes will average about 2,000 square feet and likely will range from $170,000 to $220,000. Construction could start in the fall, with completion of the development expected to take about three years.
Thomas Cook, deputy chief of staff to Lawrence Mayor Dean Jessup, shares Burrus' enthusiasm.
"We really want to create a sense of a destination spot," he said. "We've had really great growth in the Fort Harrison Reuse Authority area with some diverse developments."
Those include apartment and condo developments such as The Fort Apartments, Harrison Place Apartments and Lawton Loop Condos, in addition to assisted living and senior housing.
An affiliate of TWG Development LLC is set to rehab a former barracks building, creating 21 units for the developmentally disabled. The Merici Village project on Lawton Loop received $326,000 in rental-housing tax credits and a $400,000 Indiana Housing and Community Development Authority loan.
TWG Development, along with Indianapolis-based Westport Homes Inc., also had submitted proposals to develop the nine-acre parcel awarded to David Weekley, according to the reuse authority board's December meeting minutes.
The board chose David Weekley because it's a national builder, is building in the Village of West Clay in Carmel and Saxony in Fishers, and its home designs fit lot sizes well.
"We just thought we could bring some uniqueness to the area," said Michael Luedke, division president of David Weekley Homes. "We felt that the opportunity was good for us."
Activity is picking up in the area. Construction is expected to start within the next few months on a $5.5 million, 36,000-square-foot office/retail building at the northwest corner of 56th Street and Lawrence Village Parkway, just east of Post Road.
It will house about 27,000 square feet of office suites with the rest slated for retail. The local Jockamo's Pizza chain has committed to opening its third restaurant in the largest space.
Scott Baldwin of developer Fort Harrison Office Suites LLC is co-developing the project with Yeager Properties Inc. Yeager owns eight office suite facilities in the area and two in the suburbs of Dallas.
The building site is part of a 5.8-acre tract that the reuse authority expects to fill in with at least two more mixed-use buildings.
 
Please enable JavaScript to view this content.