A Minneapolis developer wants to build two high-end hotels in the same 15-story building on a surface parking lot downtown across from Bankers Life Fieldhouse.
Plans call for a total of 286 rooms between the two brands, an Aloft and an Element, according to plans filed with the Indianapolis Historic Preservation Commission.
Minnesota-based CSM Corp. is buying the parcel at the corner of Pennsylvania and Georgia streets from local developer Allen Commercial, company CEO Greg Allen said. Allen also owns the lot to the north, where it once had planned to build Penn Centre—a hotel, retail and condo development including Aloft and Le Meridien hotels—but couldn't secure financing during the recession.
That lot remains on the market.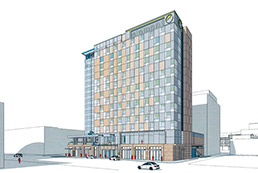 The Aloft/Element hotel would be the city's first dual-brand hotel building. (Rendering courtesy of Ratio Architects)
"We decided five years later that it would be best for us not to do the hospitality component," Allen said. "This opportunity came along, and we just thought it was too good to pass up."
If built, the project would represent the city's first two-flag hotel building.
"This is a concept that is growing in popularity," said Mark Eble, Midwest regional vice president for San Francisco-based PKF Hospitality Research. "It's relatively new in the industry to have two brands under the same roof."
CSM will develop and finance the hotel project under a license from Stamford, Connecticut-based Starwood Hotels & Resorts Worldwide Inc. Besides Aloft and Element, its brands include the W boutique, luxurious Le Meridien and the more widely known Sheraton and Westin.
Financial details for the project were not available, but it's likely to exceed $50 million based on the number of rooms, its height and the urban nature of the site.
Calls to CSM were not returned.
Plans for the development call for structured parking and two ground-level restaurant spaces fronting Georgia Street with smaller, second-level restaurant space overlooking the street, said Bill Browne, president of Ratio Architects, the project designer.
"In relation to Georgia Street and the fieldhouse, [CSM] understood the opportunity with the fieldhouse, but they didn't really understand the opportunity Georgia Street represents," he said. "We had to sell them on that."
Georgia Street has hosted various events since the city converted it into a pedestrian-friendly gathering space for the Super Bowl in 2012.
To build the hotels on the surface parking lot, a parking ramp accessible from Pennsylvania Street by Harness Factory Lofts residents will need to be moved to the north side of the lot and accessed from Chesapeake Street.
The project will be designed to include additional parking for the Harness Factory apartments as part of an agreement with that building's owner, Browne said.
Browne, who also serves as IHPC chairman, said he will recuse himself from discussions about the development. IHPC is set to hear the plans Aug. 12 at a preliminary review, where members provide feedback on a project but don't take action.
City approval could be granted in the fall, with construction starting sometime after that, he said.
Starwood's Aloft and Element brands cater to different crowds. Aloft is geared toward daily business travelers, while Element is an extended-stay concept.
An Aloft is slated to open in downtown Louisville in September 2015, according to the hotel's website. The Element brand is not as widespread. In fact, the Element in Indianapolis would be the first in Indiana or surrounding states.
Dual-branded Aloft and Element hotels are becoming more prevalent, however. One has been built in Lexington, Massachusetts, and others are planned for Boston in 2016 and the following year in Columbus, Ohio, and in London, according to Element's website.
"We are experiencing a surge in demand for dual-branded Aloft and Element hotel developments in major metropolitan markets across North America and beyond," said Allison Reid, Starwood's senior vice president of North American development, in a July 24 written release.
Merrillville-based White Lodging is largely to thank for the dual-branded hotel trend, Eble at PKF said.
One of its latest projects is a joint venture with Hyatt Hotels Corp. to develop a dual-branded Hyatt Place/Hyatt House in Denver, under construction and set to open next summer.
To a lesser extent, the $450 million JW Marriott complex in downtown Indianapolis, developed by White Lodging and REI Investments, represents a similar format, with three different hotels on the same property but not under the same roof, Eble said.
Having two hotels share one building creates efficiencies, he said, such as needing only one manager and housekeeping crew.
The Aloft and Element would be the first hotels built downtown since The Alexander opened at CityWay in January 2013 as part of Buckingham Cos.' CityWay project.
Whether downtown can support more hotels remains to be seen, but occupancy seems to be increasing. The latest report from Eble's PKF consultancy shows downtown occupancy in the first quarter of 2014 at 68.3 percent, up from 66.1 percent during the same time last year.
More downtown-hotel construction could follow. The site that's received the most attention is Pan Am Plaza, owned by Indianapolis-based Kite Realty Group Trust.
Company CEO John Kite told IBJ in July that a hotel is a strong possibility.
"Clearly, it's a great piece of real estate," he said. "In our view, it's the best undeveloped property in downtown Indianapolis. I don't think there's any question about that."
The Illinois Building also could become a hotel. A subsidiary of local developer Keystone Realty Group bought the property in November and is considering converting it into a boutique hotel.
Meanwhile, Starwood brands will have an even bigger presence downtown than just Aloft and Element.
A Le Meridien is set to open in the former Canterbury Hotel on Illinois Street once a $9.5 million redesign of the 12-story, 99-room hotel is finished later this year.•
Please enable JavaScript to view this content.