Noblesville is positioning itself to join an elite group of Indiana Cultural Districts—a state designation officials say should boost the city's appeal and help drive economic development.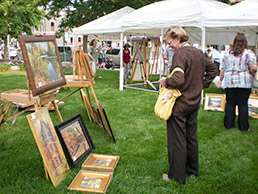 Visual arts are only one component that Noblesville hopes will convince the state of its cultural density. (Photo courtesy of Nickel Plate Arts)
If the city's years-long effort to earn a seal of approval from the Indiana Arts Commission is successful, downtown Noblesville would join five existing arts hubs, including the Carmel Arts and Design District.
Carmel's was among the first cultural districts to be selected in late 2009, along with the Bloomington Entertainment and Arts District and the Tippecanoe Arts and Cultural District in Lafayette/West Lafayette. The other two communities to win the designation are Columbus and Nashville.
"There's a proven value in creating that sense of place," said Alaina Shonkwiler, an economic development specialist for the city of Noblesville, which has embraced the "hipstoric" label for its bustling downtown.
The Noblesville Main Street organization estimates nearly 175,000 people visit businesses surrounding the historic courthouse square each year, and a 2014 map identifying more than two dozen of the city's "artistic points of interest" shows a whopping 20 of them within a five-minute walk.
But wait, there's more: As IBJ reported last month, plans for a $10 million downtown park just west of the White River include a performing-arts venue that would house the Noblesville Cultural Arts Commission's long-running Shakespeare in the Park series as well as free summer concerts, outdoor movies and other special events.
Although most of the city's arts assets aren't new, the effort to package them is.
"We have had a lot of energy behind the cultural arts in Noblesville, but it wasn't really focused," said Cindy Benedict, director of the city-led Vision Noblesville community-listening initiative. "A lot of people were doing unique, cool things, but nobody really talked to each other."
They do now, thanks to the year-old Noblesville Arts Council.
More than 30 so-called stakeholders—representing local artists, art organizations and patrons, along with businesses, tourism groups, educators and government—have been putting together an arts master plan they hope to roll out by year's end. The map tracking downtown arts assets was an early result of their work.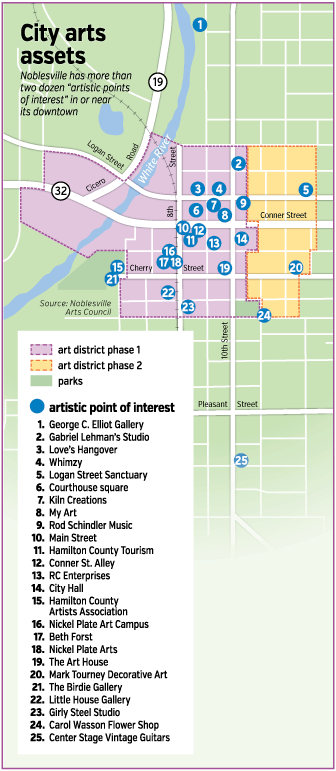 Advocates also want to increase the community's awareness of and appreciation for the arts. To that end, the city is working with Noblesville Main Street and Nickel Plate Arts on a month-long public art program that kicked off in late August.
Two dozen pieces from local artists will hang on light-pole banners downtown through the end of September—providing visitors free access to an open-air gallery of sorts.
"We want to engage the community in different capacities," Shonkwiler said.
The city was part of a 2009 cultural-district application for an arts trail spanning six communities along the Nickel Plate Railroad line in Hamilton and Tipton counties—an initiative now carried out by Noblesville-based Nickel Plate Arts—but the proposal was rejected for being overly broad.
Noblesville tried again to win the state designation as a solo act in 2010, but Shonkwiler said that bid didn't do enough to deliver a comprehensive plan for programming.
"It was too fragmented," she said. "We were looking for the state to create the district, but we realized we need to put it in place first and then go to the state."
Arts backers worked with a consultant from Ball State University to come up with a strategy for joining the ranks of recognized cultural districts, and they plan to submit what organizers hope will be their final application next year.
About a half dozen communities submit proposals each year, said Paige Sharp, the state arts commission's manager of grants, research and information technology. A selection panel evaluates the applications and makes recommendations to the commission.
"It's a very rigorous process," she said. "Few [districts] have the capacity to even apply."
And the advantages are hard to quantify. Indiana Cultural Districts don't receive state funding, but they do get a marketing boost from being associated with the statewide program. Designated districts also can apply for highway signage to attract travelers who otherwise might drive by.
Carmel took advantage of that perk, with signs on U.S. 31 that officials hope will be replaced when construction is complete. The city also promotes its cultural-district designation on marketing materials, said spokeswoman Nancy Heck.
"It's hard to point to anything tangible," she said of the program benefits, but the city's thriving arts community is part of what attracts residents and businesses alike.

Myers
"People, especially millennials, want to live in a place that's fun," said Brenda Myers, executive director of Hamilton County Tourism Inc.
Rallying its arts community behind a common vision should help Noblesville elevate its profile in Hamilton County and beyond, said Aili McGill, director of Nickel Plate Arts and a member of the Noblesville Arts Council.
"By allowing arts groups to play a more visible role, we're creating a stronger sense of place," she said. "That supports economic development and everything else."•
Please enable JavaScript to view this content.