The owners of a popular gourmet popcorn shop in Broad Ripple are expanding operations and building a new home on property they own just blocks from their current location.

Sisters Carly Swift and Mandy Selke in 2003 started Just Pop In from just 500 square feet of leased space at 6302 N. Guilford Ave., where the store still is. About four years later, they bought an old home at 6406 Cornell Ave. and converted it into the shop's shipping operations.

Now, the sisters are taking the 1,200-square-foot house and embarking on a complete remodel and expansion to combine the retail and shipping operations. When finished next spring, the building will have about 5,000 square feet.

"This has been a dream of ours for a very, very long time, Swift said. "We have finally gotten to a position where we can do it. We're extremely excited."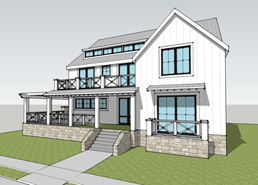 When finished next spring, the building will offer 5,000 square feet of space. (Image courtesy Demerly Architects)
The new space will serve as a retail store, production facility and office. Swift said they're about to bid out the project. She declined to provide an investment figure.

Annual sales growth of 10 percent is helping to drive the expansion. The sisters hope they can increase revenue even more by improving production.

"We've just been working at the same platform as we always have," Swift said. "Our goal is to be able to say yes to some of the larger companies that we've wanted to work with but didn't have the capacity."

Among the shop's more popular products are mini bags of popcorn that companies use as marketing tools or brides buy for wedding favors. Just Pop In also sells pre-packaged items that are more sophisticated in taste, such as chocolate-covered popcorns.

The sisters hope to secure an alcohol permit at their new shop that will enable them to serve beer, wine and champagne while hosting events.
Just Pop In long has been known for bringing a sophisticated spin to the popcorn business.
For example, the company has partnered with local brewer Sun King Brewing Co. to produce two popcorn flavors. The sisters blend Sun King's Osiris Pale Ale with a dark chocolate, and also use Sun King's malt from its Sunlight Cream Ale to make a Bavarian cheese and ale pretzel flavor.
Just Pop In also teams with Smoking Goose Meatery to create a Smoking Goose Caramel Bacon + Cheddar flavor.

The new shop and production area on Cornell Avenue is just off the Monon Trail and across the street from Martha Hoover's Public Greens restaurant.

"We just really think this is going to be a fantastic asset to Just Pop In, Swift said.

Broad Ripple firm Demerly Architects is the designer for the project.