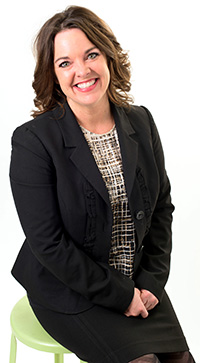 Owner, Event Planner
Positive Energy Inc.

As team leader/project manager for CBCGlobal Meeting and Event Consultants, which she joined right out of college, Annie Grinstead orchestrated events for such clients as Allison Transmission, Delta Faucet and Dow AgroSciences. Now with her own company, Positive Energy Inc., she's handled events for TechPoint, Carrier, Bryant and others.

Organized kid: The first event Grinstead recalls organizing was for student council in seventh grade at Maxwell Middle School. "I remember one of my favorite teachers, Mr. McBride, saying, 'I bet you'll work in events someday.' I never even knew there was a career in events."

Taking the leap: Forming her own company wasn't as scary as one would think. "I am very fortunate to have an incredible support system of friends and family who think the sky's the limit," she said. "Indianapolis is the very best event city in the country and, fortunately, when I took the leap, it welcomed me with open arms."

QUICK FACTS
Age: 38
Hometown: Greenfield
Family: husband, Justin; daughter, Rylee, 4
Social media: "LinkedIn is basically how I keep track of all my social media." At work, Facebook, Twitter and Instagram are in the mix.
Reading pile: Forbes articles and newspapers
Playlist: "I'm a Pandora girl," she said, enjoying everything from country to oldies to current rock.
What a difference a day makes: One of the pleasures of the event-planning business for Grinstead is that every day is different and every organization and event has its own set of challenges. "We do more than make a ballroom look good," she said. "I like to know what [the client's] goals are for the year, what their branding is. My cup of tea is working hand-in-hand with marketing."

Why Indy works: "It's so cliche," Grinstead said, "but it's Hoosier hospitality. I hear it with large and small events—from the airport to the restaurants and hotels, and up and down Meridian Street, people give a good vibe."

Common errors: "Sometimes in our industry, we try to get out there with something different and wild and, if that's what the client wants, perfect. But if you have a demographic that's meat and potatoes, don't give them something different. That's not going to work."

Taking (live)stock: In her free time, Grinstead raises show pigs on the farm she and her husband operate. And her company did pro bono work for the "Celebration of Champions" at the Indiana State Fair. "Anything that can turn a young individual toward livestock, whether a book or movie or fable, is a good thing," she said. "The most important life lesson to teach kids is to work hard, and livestock kids are truly amazing."•

Check out more 2016 Forty Under 40 honorees.