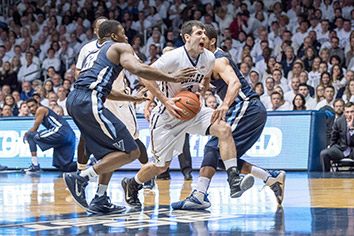 The pictures are in a display case in the southwest corner of Hinkle Fieldhouse. Eight young men, whose feats speak as well for their school as any trophy.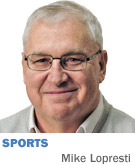 They are Butler's eight Academic All-Americans, seven since 2007. More in the past 10 years, the display proclaims, than any other Division I school. So take that, Harvard. To qualify takes being a starter or key reserve and a cumulative GPA of at least 3.3.
It is no accident there are so many. The Butler Way became The Butler Way by recruiting people who would end up on such a board. Barry Collier did. Todd Lickliter did. Brad Stevens did. And maybe, as a bonus, that was one reason for those golden months of March.
"We talked about it in recruiting quite a bit," Stevens said. "We tried to prioritize in guys that they were going to take both the classroom and the court as seriously as possible. That's probably, as far as individual work goes, my biggest source of pride. … There was kind of an unwritten goal for our program that we wanted at least one of those guys every year."       
So here they are: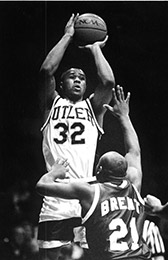 Chris Miskel played in the 1990s. (Photo courtesy of Butler University)
CHRIS MISKEL played in the 1990s, and is No. 27 on the Butler career scoring list. An accounting major, he worked for Eli Lilly and Co. for 17 years and is now with Baxalta, a biomedical firm, in Chicago.
"It was humbling. It was a different time for Butler back then. They were building into what they've become now. Coach [Barry] Collier did a great job ensuring we prioritized academics. That was part of the way he approached us when he came into our living rooms and talked to our parents about, "Why Butler?"
"I've been to Hinkle a couple of times this year, but for whatever reason I didn't see that particular display. But my brother took a picture of it and sent it to me. He asked, 'Why are you in black and white and all the other guys are in color? It looks like you're an artifact from the pre-historic ages.'
"But obviously it feels special to be the first one to do anything."
__________

Graves
A.J. GRAVES, Butler's No. 5 all-time scorer, majored in math, and was two-time Academic All-American, in 2007 and 2008, to start the recent run. He is in actuary work for Milliman in Indianapolis.
"It's something I'm still proud of, but I was probably more proud of it back then because it showed not only did I take sports serious, but I also took my academic opportunities serious. Because, ultimately, sports will eventually go away. You can't play forever. You're going to have to get a job one of these days.
"I don't think any of us were like, 'Man, we want to be an Academic-American.' It was just the culture that Butler has developed over the years."
_________

Streicher
DREW STREICHER was a senior for Stevens' first team, in 2008. He majored in chemistry, on his way to pre-med, and is now in radiology residency at Emory University in Atlanta.
"Coach Stevens would often say, 'I don't want these four years—and they're going to be amazing—to be the highlight of your life.' And I think a lot of guys took that to heart and really worked hard, knowing that there's going to be a lot more time in the rest of your life that you need to prepare for.
"We had to use every bit of smarts we could to try to compete with some of the so-called bigger schools at the time I was playing. I think that's one of the things that really did separate us. We had an unbelievable number of sets. I think we approached the game academically in that we were so prepared, that really allowed us to overcome some of the shortcomings we had in other areas."
__________

Howard
MATT HOWARD, part of the heart and soul of the Final Four teams, was also a classroom juggernaut, being named to three Academic All-American teams as a finance major. He has played professionally overseas for five years, currently in France.
"To be completely honest, I never really have thought about it or let sink in what that means. I know it's more than just an academic award. I know you have to be prevalent and the basketball team has to be really good. It was something I do take a little bit of pride in because you're part of the tradition of academic excellence within your school and I think that's something that should be highly valued. Every semester we had a goal as a team to hit a 3.0 GPA. I know it was a big thing when that did happen."
Stevens "made no doubts about that when he sent us to class the week of the Final Four. Who's going to send their kids to school that week? That's just who he was, and who he wanted us to be. That's still amazing to me.
"I didn't go to class [the Monday of the 2010 national championship game against Duke in Lucas Oil Stadium]. I did take a test but it was a concussion test. I was still trying to get cleared, and fortunately I passed the test. But there were guys who went to class. When I think about that, it blows my mind. It had to be counterproductive; think about those teachers trying to teach a class and having that distraction in the class. But it was something important to coach.
"I guess I got it three times, but a couple of those guys are a lot smarter than I am. That's why I know a lot of basketball goes into that as well. I've met some guys that are incredibly smart and their team just wasn't relevant. I've always had some kind of pullback from that. I can say for an absolute fact the stuff that A.J. and Drew were doing was on another level of intelligence."
_________

Hayward
GORDON HAYWARD, a star for the 2010 Final Four and a computer engineer major, is now with the Utah Jazz.
"We always talked about grades and we had a sheet on our locker about where you had to be as a team GPA. We had high-character guys that were good in the classroom. I think that stuff carries over to the court.
"When you have guys who are focused in the classroom, it means they are going to be focused on the details on the court. We weren't the most athletic, we weren't the most talented team, but we were really good in situations and we were really good defensively because we really focused on the details."
__________

Nored
RONALD NORED played in two Final Fours, and was an Academic All-American in 2012 as an education major. He now is an assistant coach at Northern Kentucky University.
"I didn't even know the process of it. The first time I ever heard about it was when they told me I was on the team.
"You put us all together, it gave us an opportunity to think at a high level from a basketball standpoint, because we had certain values that lent [themselves] to being locked in in pressure situations, and being confident in our ability to think. In the NCAA Tournament, you're not practicing a lot. You're really thinking more than anything else. And we had a pretty high-level-thinking coach as well. All that intertwined together resulted in a lot of good."
__________

Smith
ANDREW SMITH was next in line, in 2013, majoring in finance. He died in January at 25, after a long battle with cancer. This from his widow, Samantha:
"Andrew seldom talked about himself and his many accolades, so he didn't talk about this award often, but I know it meant a great deal to him. He was an extremely goal-oriented person and I think this honor was something he strived for and used as motivation in the classroom.
"As Andrew's wifeand widow, it means a lot to me that people know how well-rounded of a person Andrew was. His name will go down as one of the Butler greats, but he also worked hard in the classroom. He beat cancer. Many say he lost the battle, but that's simply not true; the battle was just over. Andrew beat the heck out of cancer and I was and am so proud to have done that alongside him."
__________
ALEX BARLOW knew he wanted to join the line. He made it in 2015, in finance, and is now on Stevens' Boston Celtics staff.
"For me personally, it was really important. Off the court, that was probably one of my main goals, just because it shows you're not only committed to your team and your own on-court performance, but it shows your commitment to be better off the court and show you're a multi-dimensional person.
"My junior year was the first year in a while that we didn't have an Academic-All-American, and I took that a little personal, because I felt like it was my responsibility that year to keep the streak going."
No Bulldog is on the short list of Academic All-American candidates this season, but the guess is, it won't be long until the next one. This is Butler.•
__________
Lopresti is a lifelong resident of Richmond and a graduate of Ball State University. He was a columnist for USA Today and Gannett newspapers for 31 years; he covered 34 Final Fours, 30 Super Bowls, 32 World Series and 16 Olympics. His column appears weekly. He can be reached at mlopresti@ibj.com.
Please enable JavaScript to view this content.