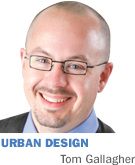 If you read my last column (thanks, by the way) you'll recall that I have a bit of criticism for the original plat of Indianapolis. Though it's revered locally, the plat prepared by Alexander Ralston and Elias Fordham in 1821 has flaws that leave us with some inherent challenges.
For starters, Ralston and Fordham estranged us from White River, even though early settlement in what would become Indianapolis happened along its upper banks. They clearly saw the marshy and forested terrain near the river as something to be overcome. So they located the center of their "Mile Square," Meridian Street, a mile away.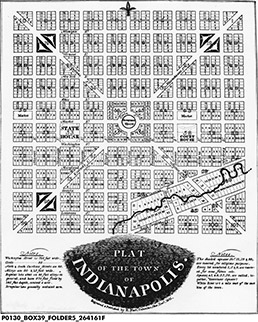 (Photo courtesy of BASS PHOTO CO COLLECTION, INDIANA HISTORICAL SOCIETY)
That decision left us without the allure of gently curving streets or organic block patterns, like those that characterize some of the oldest boroughs of American cities like New York, Boston or Charleston, which were formed by natural topography and waterways.
Instead, Ralston and Fordham based their plat on a simple grid of right-angled streets. Many of the earliest planned cities, like New Orleans, Savannah and Raleigh, followed a grid concept similar to that established in Philadelphia in 1682. There, blocks varied in size, giving emphasis to street hierarchy, adding variety that aided orientation and made way for public squares around which district identities could be created.
Ralston and Fordham's grid, however, was different, consisting of 100 blocks of virtual sameness. Their plat instituted uniformity in Indy's streets, making nearly all of them the same unusually broad width. In a time when automobiles and streetcars were still beyond imagination, the streets were set at a width 50 percent larger than the present-day national average. The proportion feels awkward, even today, with our streets being wider than most of our buildings are tall.
In treating all the streets as grand, as Ralston and Fordham did, ultimately, none were. Likewise, streets that should be intimate feel empty even when the parcels and spaces are full. Clearly, driving down secondary streets like Vermont or New Jersey should feel different from a drive down Market Street or Meridian.
Because of our grid challenges, downtown still lacks strongly recognized districts. The rigid regularity of the Mile Square puts undue pressure on individual buildings to create the distinctiveness the grid itself lacks.
One unique element of the Indianapolis plat was surely influenced by Ralston's involvement in the plat for Washington, D.C., which is known for its diagonal avenues. Ralston and Fordham laid over the Indianapolis grid diagonal avenues extending from the center to the corners of the plan.
Remarkably, angled streets were fundamentally not existent in planned American cities of the time. In Washington, they were purposely employed to give the plan distinction. The avenues readily connected smaller districts to core parts of the city while framing important vistas, like the one between the Capitol and the White House. Unfortunately, Indy's diagonals proffer no special views and essentially extend to nowhere.
While Indy's diagonals may have provided some idiosyncrasy, their lack of meaningful facility has led to their erosion from the map.
Perhaps all of these shortcomings have roots in one other—a shortage of foresight by city founders. Evidence suggests the county commissioner charged with establishing the new town of Indianapolis believed it would not grow beyond the original plat. In fact, the cardinal direction streets that bound the Mile Square today were not indicated on the original plat because it was thought that no one would ever want to live at those extreme edges.
Without a doubt, Ralston and Fordham's most successful decision was placing Circle Street at the center of the plat. But it wouldn't become one of the greatest public spaces in America until 150 years later, after its renovation to a pedestrian-priority street in the early 1970s.
We are, by many counts, a young city, and the shaping of urban form is an endless endeavor. Despite the flaws of the city's original plat, there are big opportunities to be pursued, such as reconnecting to the White River, making the best of our wide streets by creating distinctive public spaces and using our diagonal streets to connect with districts beyond the Mile Square.
Next month, we'll explore some of those opportunities.•
__________
Gallagher is an urban designer with RATIO.
Please enable JavaScript to view this content.