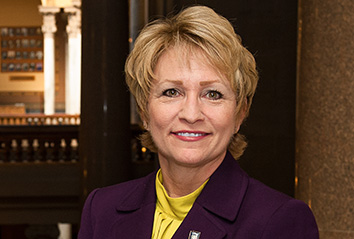 Former Indiana Lt. Gov. Sue Ellspermann will be the next president of Ivy Tech Community College, according to sources close to the decision-making process.
Ivy Tech's board of trustees is expected to vote Wednesday afternoon to approve Ellspermann's appointment, the sources told IBJ.
The former No. 2 to Gov. Mike Pence stepped down earlier this year to put her name in the ring for the role. Pence strongly endorsed her, and Ellspermann has said the job was an "even better seat on the bus for me." She formally resigned on March 2.
Board members stressed throughout the process that Pence's endorsement of Ellspermann, 56, did not put pressure on them to choose her to replace Tom Snyder, who is retiring.
There were 30 applicants for the position, a field the presidential search committee narrowed to nine, and then three, candidates.
Trustees will publicly vote Wednesday afternoon at 3:30 after a private executive session. A press conference to announce the decision is set for 4:15 p.m.
Ivy Tech spokesman Jeff Fanter said Wednesday's meeting was to "further discuss the search process."
"This is a process that began in October with a statewide listening tour and one that has moved consistently along the timeline the board mapped out and publicly shared seven months ago," Fanter said.
Ivy Tech is considered the largest community college system in the nation, and has 32 "degree-granting" locations in 75 Indiana cities. The college serves about 170,000 students per year.
However, Ivy Tech has faced challenges over recent years, including questions about its low graduation rates and declining enrollment. Ivy Tech officials say it is common for community college enrollment to drop as the economy improves and people get back to work.
In a state review of the college, the Indiana Commission For Higher Education recommended closing or retooling some programs with low enrollment or low completion rates. Ivy Tech recently responded by saying that it would put 15 percent of its 768 programs "under review" based on their failure to meet desired student success benchmarks.
Previously, Ellspermann has served as state representative, owned a business consulting firm, and was the founding director of the University of Southern Indiana's Center for Applied Research.
Tom Easterday, executive vice president of Subaru of Indiana Automotive Inc., which works with Ivy Tech on several programs, called Ellspermann a "uniquely qualified" candidate. Easterday said he was hoping that she would be chosen.
"She has the knowledge and the desire to make the changes that are needed to help Ivy Tech become the leader in workforce training," Easterday said, citing her knowledge of the state's workforce needs, her legislative connections and her "extensive" business experience.
State Sen. Luke Kenley, chairman of the Senate Appropriations Committee, who is the lead budget writer at the Statehouse, said he is "very enthused" about the appointment and "expecting a really high performance out of her."
"This is a time for Ivy Tech to be maturing in terms of what its institutional offerings are," Kenley said. "We've had dramatic growth, and topsy-turvy performance results. Now is the time to consolidate our programs and really make it a high-quality offering. Sue's background, I think, makes her the kind of person who is going to be very tuned into that type of exercise."
 
Please enable JavaScript to view this content.