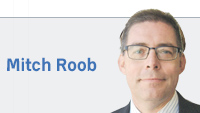 Is it still Archie Bunker's America? We might find out come November.
For those of you too young to remember, Archie Bunker was the TV patriarch of a fictionalized New York working-class family created as a foil for condemnation for his reactionary thinking. Archie became a working-class hero.
Archie rejected much of the '60s and '70s equal-rights movements: Women and minorities were really not his top priority, though my recollection is he did not wish them harm.
The culture wars of the '60s were fought in legislative chambers. Today, summary justice is handed down by unelected judges. Americans do not much care for being told what they should do, how they should do it, and what they should believe—certainly not without representation.
The imposition of policy changes by an unelected, distant government without the consent of the governed nearly always causes problems. From the Colonial Stamp Act to the Brexit vote and many times in between, the reaction is sure, sweeping and rarely proportional. In public policy, every action causes a reaction seldom equal, always opposite.
Most "revolutions" of the English-speaking peoples have been reactionary rather than liberal, seeking a return of prerogatives perceived to have been taken.
Watching how the British act and react can often provide a prequel to how Americans will act. Immigration from other nations—European, Asian and within the Americas—has occurred, but our nation's political structures and political culture(s) were largely framed by the decedents of British immigrants and accepted by subsequent immigrant waves.
Did the British people ever really want to be part of Europe?
Through most of her history, the British have physically and metaphorically stood apart from Europe. During the 19th century, following the Seven Years War, the American Revolution and the Napoleonic Wars, she looked to Asia for trade and development, having grown weary of expensive wars and entangling alliances.
In 1914, the British expeditionary forces' intervention in World War I on the continent marked the first time since Wellington that British soldiers fought on European soil.
There the British seemed to stand, until Brexit. But why? Was it immigration, a growing antipathy with the wealth gap, distaste for rules being imposed upon them from Brussels? Perhaps it was the tyranny of direct democracy in an age of social media controlled by no person or group.
The establishment does not understand this spasmodic anger, but it is real and to some extent lies dormant within the national subconscious until the confluence of events and a charismatic figure can give it voice.
The post-WWII policy consensus that freer trade, globalization and shared security will in the end raise the living standards of the first as well as the third world seems—at least in Britain and perhaps in America—to be under review.
Like Brexit, Trump's ability to give voice to the anger and frustration of the American middle class is amazing but not unique.
Perhaps by recalling the rise of Andrew Jackson, Franklin Roosevelt and Ronald Reagan (as well as others like William Jennings Bryant, Huey Long and Pat Buchanan), we can gain perspective on this part of the American political subconscious.
Each of these leaders litigated the idea that, "Our nation was ruled by elites in New York and Washington and that only they could return the power to the people." Restoring the economic liberty is every American's birthright.
This November's election once again pits an outsider populist against the establishment.•
__________
Roob, president of HealthCare Anywhere, has run Indiana Economic Development Corp. and Family and Social Service Administration. Send comments to [email protected]

Please enable JavaScript to view this content.