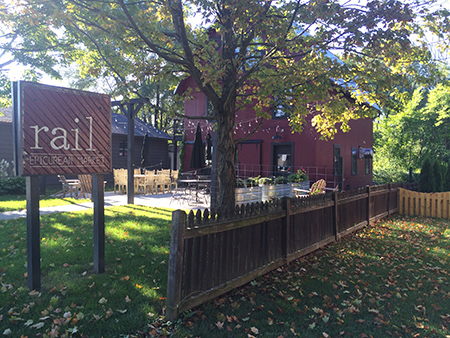 Bob Beauchamp always has had a love for restoring old buildings and collecting antiques.
It's what prompted him to open his first antique shop in 1970 and, more recently, it's what led him to renovate homes on Park Street in Westfield's downtown.
The longtime Westfield resident initially was drawn to a rundown barn near the intersection of Park and Mill streets. Since acquiring that property and the adjacent house about four years ago for $50,000, he and his wife, Michelle, have invested millions of dollars buying and renovating other homes on the same block.
Restaurants have opened in three of their properties—Rail Epicurean Market, Greek's Pizzeria and The Italian House on Park.
At their most recent purchases—226 and 228 Park St.—two more eateries are on the way. A Japanese restaurant could open before the end of the year, and a shop selling gelato, breakfast foods or carryout items might take the other slot.
"I wish I could take credit for a vision, but I can't," Bob Beauchamp, 72, said. "I was just trying to buy the barn."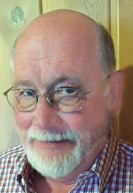 Bob Beauchamp
The Beauchamps' investments and the restaurant activity have garnered attention throughout the growing Hamilton County city of 37,000 residents.
"He invested in an area that many didn't think would be possible maybe five years ago," Westfield Chamber of Commerce President Jack Russell said. "If you want to get something done in downtown Westfield, you call Bob."
Despite collecting rent from tenants, the couple hasn't made money yet, and the two don't expect to for at least five more years.
When they started investing, they funded projects with their own money and then started using a line of credit Bob Beauchamp said he established in Iowa, where he is orginally from.
"I have assets in Iowa that secure purchases here," he said.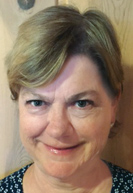 Michelle Beauchamp
Making money off the properties doesn't matter much to the couple, for now—they enjoy being part of revitalizing downtown.
"It's all coming together," Michelle Beauchamp, 62, said. "It's really changed the whole vibe."
The Beauchamps say they had interested tenants almost immediately after taking control of the first properties, at 205 and 211 Park St., which are now home to Greek's Pizzeria and Rail Epicurean Market.
But when Rail owners Toby and Melanie Miles approached the couple about opening a restaurant in the barn, the Beauchamps passed because the building lacked electricity or running water.
It most recently had been a bike shop, and was wall to wall with old bicycle parts when the Beauchamps bought it.
Melanie Miles was persistent, though, and the Beauchamps finally agreed to do the renovation. The Rail opened in April 2014, becoming the first restaurant on the block.
"When they opened, they had to have their heart in it," Downtown Westfield Association Executive Director Teresa Skelton said. "Thank goodness that got the ball rolling."
Greek's Pizzeria opened later that year in the house directly east.
Soon, the owner of the house to the west—at 219 Park St.—approached the Beauchamps about selling.
"Everything was either for sale or they asked us to buy it," Bob Beauchamp said.
Shortly after the Beauchamps bought that property for $220,000, Scott Wolf—owner of four Wolfies Grill restaurants in Hamilton County—signed on to open an Italian restaurant. About a year ago, The Italian House on Park opened.
"It's never hard to find a tenant," Bob Beauchamp said.
The Beauchamps' current project, a house at 228 Park St., might be their toughest renovation yet because it has been empty for 12 years, but they already have another restaurant tenant lined up, which pushed them to pursue it.
"You couldn't see the property," Bob Beauchamp said, adding that floors were falling in and raccoons had invaded. "But we're bringing it back, and it will be incredible."
The owner of a New Orleans restaurant called Chiba plans to open a similar eatery at the location, featuring Japanese food and sushi.
The house at 226 Park St., which the couple also recently bought and rezoned for commercial use, doesn't have a specific restaurant tenant yet, but the Beauchamps expect it will offer gelato, breakfast foods or carryout items.
The couple also owns other properties in the area, including the house the city's co-working space, The Union, occupies and the house on Jersey Street where Grand Style Station hair salon operates.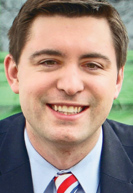 Russell
Curt Whitesell, a real estate agent and director of The Union, credited the Beauchamps with taking a risk and investing downtown while developers stayed away.
"Bob is the first contact for real estate space in downtown Westfield," Whitesell said. "The first thing I do is ask Bob, 'What do you got?'"
The Beauchamps also still run a European antique business, Beauchamp Antiques, about a mile south of downtown, at 16405 Westfield Blvd., but Bob Beauchamp said it doesn't require as much of their time these days.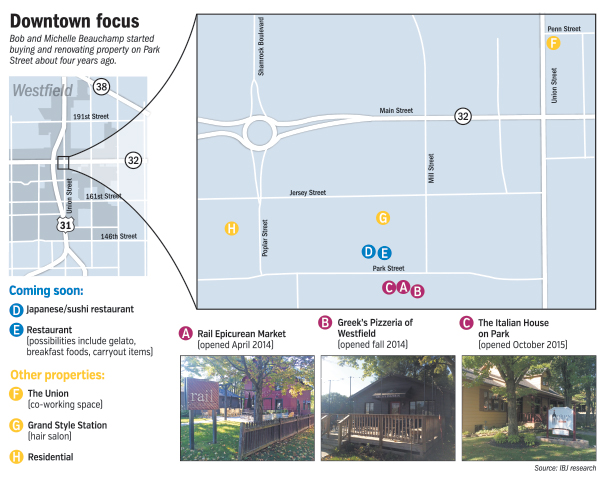 Downtown now has a mixture of residences, businesses and restaurants within homes—not unlike Broad Ripple in Indianapolis, but on a smaller scale.
"I would love to see that area create its own culture almost," said Russell, the chamber president. "It's just a neat little space."
Russell predicted the momentum the Beauchamps started will continue to build, especially once the city's long-discussed Grand Junction Park & Plaza downtown-revitalization initiative comes to fruition.
The $25 million initiative is expected to feature a cafe, a sit-down restaurant, space for an outdoor ice skating rink or public events, a lawn and stage for performances, and an amphitheater and meadow.
A system of trails and bridges are to connect the different areas of the park, which will be between Mill Street and Union Street to the south of Jersey Street.
The Beauchamps' properties with the restaurants along Park Street are in the block just west of that space.
"The crazy thing behind all of this is, we're doing it on the thought that the park might be there," Whitesell said. "This is theory that we're all banking on."
Work to reconstruct Mill Street around the park property is under way and expected to be complete by the end of the year, but construction on the plaza isn't anticipated to start until next year.
Discussions about the massive project started in 2008, but final designs weren't presented until early 2016. City officials have said it could be three to four years before the project nears completion.
"Grand Park [Sports Campus, about a mile north of downtown] kind of took over a lot of the talk—and it's all good—but it kind of left our downtown a little bit on hold, and understandably so," Skelton said. "It takes money, it takes planning."•
Please enable JavaScript to view this content.