Gene Stratton-Porter, perhaps the best-known female author in Indiana history, thought of herself first as a naturalist and conservationist. Advised by publishers of her best-selling novels to "cut out the nature stuff," she instead kept putting more of it in.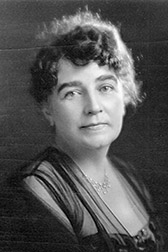 The setting for Stratton-Porter's early books was the Limberlost Swamp of eastern Indiana, which was being stripped at the time for farmland and oil drilling. (Photo courtesy of Wikipedia)
Stratton-Porter was born in 1863 in Wabash County, the last of her parents' 12 children. Of her mother, Mary, who died of typhoid fever when Stratton-Porter was 12, she wrote, "She could do more different things and finish them in a higher degree of perfection than any woman I have known."
Her father, Mark, was a farmer and preacher who traveled the countryside of northeastern Indiana delivering sermons and lectures. When he remarked on inspired Bible passages, a landscape, or a man's heroic deed, the author recalled "seeing his eyes shine."
Describing the farm on which she was raised, she wrote that, "No other was ever quite so lovely as the one on which I was born." There as a child she spent most of her waking hours roaming among flowers, birds and butterflies.
After the family moved, she found herself in school, where she discovered her gift for storytelling. But she left before graduating high school, expressing thanks that she did not "pass through a groove in the company of dozens" and was thus able "to preserve my individual point of view."
At age 20, she met a pharmacist, Charles Porter, and the two were soon wed. Her only child, Jeanette, was born a year later. They built a large house in Geneva, which she kept "immaculate," making her daughter's clothes, cooking and washing three times a day, and growing 600 bulbs a year.
When her daughter was old enough to go to school, Stratton-Porter began writing about and photographing wildlife in earnest. Her setting was the Limberlost Swamp in the eastern part of the state, which was then being cleared for farmland and oil drilling.
Difficulty finding publishers for her naturalist writings compelled her to write fiction. She embedded her love of nature in romance stories, what she called "nature studies sugar-coated with fiction." Soon, she was writing an illustrated article a month.
Stratton-Porter's first book, "The Song of the Cardinal," was published in 1903. It begins with the discovery of the mangled body of a cardinal left by a hunter, then proceeds to tell the bird's life story. It includes beautiful illustrations intended to awaken every reader's wonder at the beauty of birds.
Soon followed "Freckles" and its sequel, "A Girl of the Limberlost." The first tells the story of an orphan who is missing his right hand, while the second concerns an impoverished young woman. Both brim with descriptions of the flora and fauna of the Limberlost.
All in all, she authored 12 novels, seven nature books, two books of poetry, and innumerable magazine articles. Her works were translated into many languages, and she attracted over 50 million readers worldwide.
Eventually, Stratton-Porter left Indiana for California, where she established a movie studio to turn her novels into films. There she was killed at the age of 61 by a streetcar while traveling to visit her brother in Los Angeles.
Asked to explain her devotion to her native state, she once responded:
"I was born in this state, have always lived here and hope to die here. It is my belief that, to do strong work, any writer must stick to the things he truly knows—the simple, common things of life as he has lived them. So I stick to Indiana."•
__________
Hoosier Beacons pays tribute to Indiana's bicentennial by telling the stories of famous Hoosiers. It appears every other week. Gunderman is chancellor's professor at Indiana University.
Please enable JavaScript to view this content.