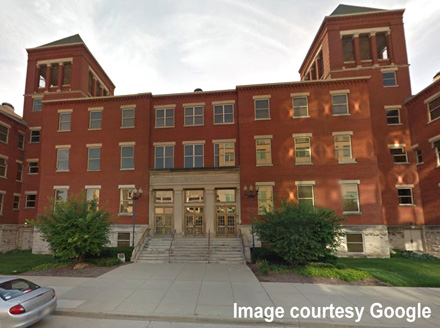 A group of investors have launched a real-estate operation that allows adolescent tech companies to sign 1-, 2-, and 3-year office leases—as opposed to the longer-term deals that often cause headaches for these often highly unpredictable companies.
John Hurley, CEO of software firm SmartFile, and three real estate investors said they've invested more than $10 million to create The Union, a for-profit venture that will open in January. It will be based in a 122,000-square-foot building at 525 S. Meridian Street, not far from Lucas Oil Stadium.

John Hurley
The 121-year-old downtown property—which is known as the Brougher Building and used to house Harry E. Wood High School—is already 90 percent leased, Hurley said. Health Analytics company Springbuk moved in this month and SmartFile will move in in February.
The Union is after high-growth tech firms that are past the startup phase, but still aren't quite at the altitude where they can reasonably project how much space they'll need in five years or 10 years. It will offer short-term leases in increments of 5,000 square feet that users can adjust as needs change.
"We've developed a space for that scale-up company to easily plug and play and not have to have a five-year lease," Hurley said. "There's nothing like what we're doing anywhere that I've seen in the country—certainly not in the city—at the scale we're doing it."
The 5,000-square-foot "pods" will each feature movable walls and furniture, two large conference rooms, two breakout rooms, business-class internet service, and free employee parking. All of that will cost about $18 a square foot per year, or about $7,500 a month.
That space can accommodate between 20 and 40 employees, Hurley said.
The company behind The Union is 525 Meridian LLC. The other business partners are Schererville-based businessman Al Krygier and Lafayette-based real estate developers John Teibel and Brad Teibel. Combined, the three oversee about 4 million square feet of real estate.
That trio purchased the building in 2015 from Eli Lilly and Co., and struggled to land tenants. Then, while searching for office space for his company earlier this year, Hurley was introduced to the group through a community banker. It wasn't before long that he floated the idea for The Union.
The $10 million they've invested so far is being used for renovations and the purchase price of the building, which they didn't disclose. Public records pegged its 2015 assessed value at close to $3 million.
Real estate owners typically lean toward requiring longer-term deals as a way to help ensure they can cover their costs, especially if some space in a property goes unleased.
Hurley said his model is riskier, but he's betting that there will be enough demand in Indianapolis' burgeoning tech sector to make it work.
"What we're gambling on is that there's a big enough demand in our city … that we'll have a [tenant] easily be able to move out and have the next one move right in," he said.
"So people are going to be watching this model, to see 'does this really work?' If it does, we're on to something really cool."
The real estate problem isn't new for tech firms, and The Union isn't the first attempt to tackle it locally. The Speak Easy, a not-for-profit co-working club, opened a 12,000-square-foot outpost downtown last month that offers short-term-lease space in addition to co-working space.
It sold out of its 16 lease units shortly after opening, officials said.
And Bloomerang LLC, which sells donor-management software, hashed out a 2015 deal that granted it free land at Fort Harrison so it could build the office space it needed at its own pace. At the time, CEO Jay Love told IBJ: "If you're growing rapidly like we are, … it's hard to plan out where you're going to have your offices. You either have to bite off more than you really want right now or move every 12 to 24 months."
Built in 1895 to house the Industrial Training School, the building housing The Union became Manual Training High School in 1899, Emmerich Manual Training High School in 1916, Harry E. Wood High School in 1953 and the Brougher Building in 1988.
Please enable JavaScript to view this content.