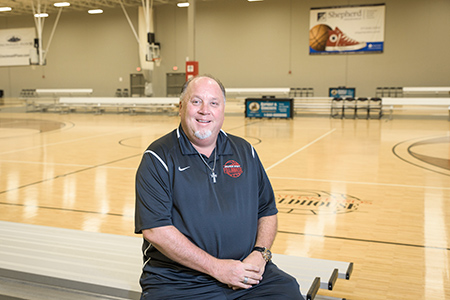 As the fourth-generation leader of Fishers-based Perkins Global Logistics, Andy Card has spent most of his career in the trucking industry.
He never expected to develop youth sports complexes. But that's changing fast. He's already opened one in Westfield and intends to spread the concept to more than 16 other communities, including in the Indianapolis area.
Card, along with business partner Mike Klipsch, announced plans Nov. 29 for a $15 million facility in Noblesville that would include five hardwood courts, two turf fields, a pitching cage, food services and a physical therapy office. Outdoor fields might be added later.
Klipsch retired from Indianapolis-based Klipsch Group Inc. in 2015 after nearly 20 years with the family-owned company, serving as president, chief operating officer and chief counsel, and Card is preparing to step back from the family trucking business as it merges with a larger Pennsylvania-based company.
"We're going to stay very focused on athletic facilities," Card said. "This is the second chapter of my business career."
It's an ambitious plan. It can be difficult to turn a profit in the youth sports industry or even get a project off the ground. Westfield's Grand Park Sports Campus opened in 2014 but revenue there isn't yet covering all its expenses. And a $77 million proposal to build a sports facility in Fishers in 2015 has yet to break ground.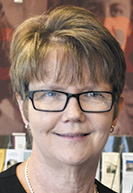 Myers
Plus, the competition is growing. According to a recent report from the Washington, D.C.-based Aspen Institute, seven "new, sprawling athletic complexes" are expected to open by the end of this year across the country, compared to only two opening in 2015. Each facility costs $5 million to $50 million; they're located in suburbs or rural areas.
"It's absolutely a very popular thing nationwide," said Hamilton County Tourism Inc. President and CEO Brenda Myers.
The Aspen Institute research also showed that youth sports participation is slightly up—regular participation in team sports increased 3 percent from 2014 to 2015 for kids ages 6 to 12. Specifically, baseball, field hockey, wrestling and flag football saw increases.
Card and Klipsch, who co-founded Klipsch-Card Athletic Facilities LLC, say the demand for more courts and fields exists nationwide and in Hamilton County and they're confident their facilities will be successful because they will be the "gold standard."
Klipsch
"We're already in talks with finding the best people in those different sports to have all the connections to get the right people here," Klipsch said. "There's a massive shortage of court time here, so when people say they can't figure out how to make it work, I don't understand that."
A different game
Card spent years traveling the country with his sons for basketball league games and tournaments and recognized the need for better facilities.
The tournaments were regularly spread across multiple school gyms—sometimes an hour apart—and occasionally lacked in hospitality and customer service. He knew it could be better.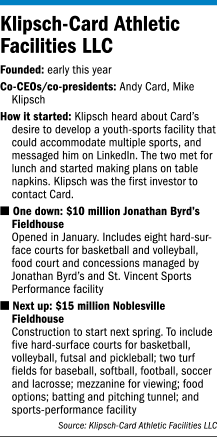 "There's just nobody that had a facility for leagues or tournaments that you could play multiple sports under one roof all year round," Card said.
He spent two years pulling together data and then started approaching investors and banks.
"Everybody thought I was crazy," he said. "'You'll never pull it off.' 'You're not going to get investors.' 'You're not going to get the financing.'"
Klipsch was the first investor to bite.
"We had lunch, hit it off and got started that day," Klipsch said.
Their $10 million Jonathan Byrd's Fieldhouse opened in January at Grand Park. It features eight hardwood courts for basketball and volleyball but can also accommodate other sports like pickleball.
"There was some trial and error," Card said. "Being open almost a year, things are going really well."
A big change came in June when Card replaced the facility's entire management staff, saying "expectations were not met" during the first half of the year.
"We needed to go a different direction," he said. "And it was the right decision."
Risky business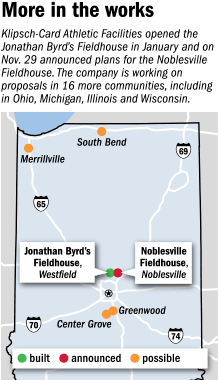 A Fishers sports-complex proposal demonstrates how tough a youth sports project can be.
In spring 2015, Carmel-based GK Sports Development LLC introduced a plan for a $77 million multi-use complex that would house an ice arena, 32 basketball and volleyball courts, a football field, an indoor track, a baseball training center and a 600-space parking garage in Saxony in Fishers.
The massive development would be only about four miles from the proposed Noblesville Fieldhouse, but since the 2015 announcement, almost no progress has been made. The 20-acre site is vacant, despite initial projections to start hosting events this year.
The developer and Fishers officials have said the delay is due to the developer's inability to secure financing.
Card said that project was much larger than what he's proposing, and he's not familiar with the details to know what caused the problems. But he's not worried.
"My philosophy in all the businesses I own is, you don't make it about the money," he said. "If you go and put together the gold standard … and you do things right and make it affordable, the money always follows. You just gotta do it the right way."
Kyriaki Kaplanidou, a professor in the Department of Tourism, Recreation and Sports Management at the University of Florida, said the key to being successful with complexes like this is collaborating with local government and sports tourism agencies. Otherwise, the facility could miss out on opportunities for tournaments and leagues.
Profitable complexes also require a significant amount of planning and need to be located in an attractive area, according to Kaplanidou.
"You need to capitalize on this with careful planning," he said. "It cannot be done without that."
Local support
The city of Noblesville already supports Card's proposal and plans to contribute $800,000 annually to the fieldhouse. In return, the city would rent the space during the week to public groups and leagues.
The agreement would help fill the facility during what are typically slow times and still allow revenue-generating tournaments to book time on the weekends.
Card declined to comment on the annual budget for Jonathan Byrd's Fieldhouse, but many weekends in 2016 were booked even before the facility opened.
He expects the Noblesville facility to see similar demand. He described the location as the "perfect spot" given its proximity to Interstate 69, restaurants, shopping and hotels.
He said the company has turned down communities where the infrastructure and metrics weren't favorable, but he is looking at growth.
In addition to Johnson County, near Greenwood or Center Grove, Card is exploring the possibility of facilities in northwestern Indiana and in Michigan, Ohio, Illinois and Wisconsin.
Myers agreed that the demand appears strong enough to support the Noblesville facility, and she expects it will complement, rather than compete with, Grand Park.
She said youth sports attracts 1 million visitors to Hamilton County annually, with 800,000 unique visitors attributed to Grand Park.
To accommodate all the anticipated out-of-town visitors, Card said, the Noblesville project could include a dormitory-style hotel that would be owned and operated by his company.
Despite the recent burst of hotel construction in Hamilton County—close to 10 projects are in different stages of development—he said there's still a need for more.
For the 12-month period ending in October, weekday room demand was up 5 percent and weekend room demand was up 4.2 percent in Hamilton County, according to data Myers received from STR Inc.
Myers said the I-69 corridor is a healthy area for hotels, but she has concerns about dorm-style accommodations.
"The dorm-room concept is challenging unless you're going to be doing year-round weekday camps. There's no weekday market for dorm rooms," she said. "I applaud that thinking because I think it's creative … but I just don't know how they can ink out in the black."•
Please enable JavaScript to view this content.