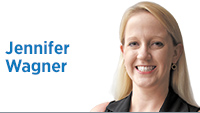 So this is what rock bottom feels like.
I thought we'd hit it in 2010, then again in 2014. But 2016, you really outdid yourself.
It wasn't for lack of trying that my party got its clock cleaned. From former Gov. Evan Bayh to congressional hopeful Shelli Yoder down in the 9th District, we put forth some strong candidates. And I'd be remiss if I didn't congratulate the only winner this cycle, House Minority Leader Scott Pelath, who picked up a seat in his caucus.
We can make excuses and say it was the year. It was a wave. It was undetectable anger, a populist outcry that didn't show up in the polls.
Or we could recognize it as an opportunity.
This is not the first time I've written that Indiana Democrats needed to reach this point to turn things around. I just didn't think we would have to dip so low. Nor do I envy the two Joes—Hogsett and Donnelly—in whose hands the future of the party now largely rests.
That's not in any way meant to discount other elected officials, including Pelath, Senator Minority Leader Tim Lanane, Reps. Andre Carson and Pete Visclosky and municipal leaders across the state. They will all play a valuable role in the conversation about where we go from here.
But when it comes to party infrastructure and leadership, the Indianapolis mayor and soon-to-be senior U.S. senator are critically important to our success in 2018 and beyond.
Since taking office, Hogsett has started to transform the Marion County Democratic Party in a very positive direction. He's also nurturing a strong group of young leaders within city government.
Donnelly is now our only statewide officeholder. He's a pragmatic problem solver, and I have faith that he'll install a team that channels his leadership style—inclusive and open-minded—while taking Republicans to task when necessary.
Shortly after the election, I made the case in this publication that state parties as we once knew them are dead. They're not the financial, messaging or operational powerhouses they once were now that we live in an era of super PACs and other outside influencers.
That doesn't mean the Democratic Party itself is dead. Far from it. From the ashes we surely can rise. The question is when and how.
It won't be easy, and we won't be able to accomplish the necessary post-mortem if we write 2016 off as a fluke.
Why did we fall flat on our faces this year?
Maybe we lost touch with rural America, as Agriculture Secretary Tom Vilsack has suggested. Perhaps young progressives stayed home after Bernie Sanders lost the primary. Women, even those with college degrees, certainly proved they don't vote for a candidate based on gender alone.
I don't have all the answers, but I do know we can't keep doing things the same way and expect different results.
As we close out 2016, I'm pledging to make 2017 a year of "yes."
Let's hear out every new idea. Let's have the conversation about our future at cocktail parties and dive bars, Democratic club meetings and Little League practices.
Now's our chance to put it all on the table and really think through what we want to be, to seed the next generation of leaders and train up candidates who are strong, competent messengers of our core values.
Where others despair, I have an odd sense of hope that this is the new beginning we've needed for a long, long time.•
__________
Wagner is a lifelong Indianapolis resident and founding principal of Mass Ave Public Relations, a local public relations and publicity firm. Send comments on this column to [email protected]
Please enable JavaScript to view this content.