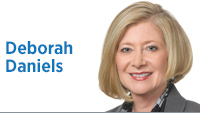 A pillar of the legal community has passed on.
William F. Harvey, former professor and dean of the Indiana University McKinney School of Law, passed away recently. The positive impact of his life on multiple generations of lawyers cannot be overstated.
Bill Harvey was so revered that most former students continued to call him "Professor Harvey" or "Dean Harvey" throughout their legal careers. He taught evidence, civil procedure and an enduring respect for the law to thousands of Indiana students over more than 30 years.
Dean Harvey was a giant to those of us who had the privilege of learning from him. His lectures were a wealth of valuable information about how law was actually practiced. There was no commentary, and there were no war stories—just an hour or more of solid legal education at a sitting, such that students dared not allow their minds to wander for fear of missing a valuable nugget of information. He required students to stand in order to recite—in order to prepare us for future occasions when we would stand in court and have to think on our feet.
After serving as dean of the law school in the 1970s, he became the school's first titled professor, serving as the Carl M. Gray Professor of Law. He was honored by students time and time again as the outstanding professor of the year.
But Dean Harvey was far more than an instructor. He was a mentor to many lawyers, who would seek his advice years after having graduated regardingquestions of legal procedure. In a moving tribute delivered on air shortly after his death, Greg Garrison recalled having called Harvey from courtrooms throughout central Indiana in the midst of trial for advice on a procedural or evidentiary issue. Reminiscing a week later, Garrison told me about having called the dean in the midst of his first murder trial. According to Garrison, "He talked me down" off the ledge, advised him on the specific point of law and, as Garrison recalled, even offered a right-on-point citation.
In 1982, President Reagan appointed Harvey chairman of the Legal Services Corp., to replace Carter-appointee Hillary Clinton. She and others, who believed Democrats have a corner on compassion, initiated legal action to block his appointment. In fact, Harvey was resolutely dedicated to the provision of legal services for the poor. He served on the Indianapolis Legal Aid Society's board for 35 years. His obituary requested donations to that organization in lieu of other tributes to his memory.
In 1985, Reagan nominated Harvey to the 7th Circuit Court of Appeals. His legal credentials were obviously impeccable, but his nomination was again blocked by Democrats. I consider this to have been a travesty. Bill Harvey was indeed a philosophical conservative, but he was also brilliant and absolutely devoted to the rule of law. He would have been an outstanding jurist.
In his private life, he was a devoted husband to his wife, Gerry, and father to two children, Bill and Carolyn, who are now distinguished members of the medical and legal professions, respectively. They were a loving family who had great fun together, including pillow fights initiated by the dean himself.
But, as Garrison so eloquently said at the end of his on-air tribute, Harvey's was not a small family. "He leaves a family of thousands of lawyers … who are better people [and] better lawyers by his example, his teaching … and his love of the rule of law."
Rest in peace, Bill Harvey.•
__________
Daniels, managing partner of Krieg DeVault LLP, is a former U.S. attorney, assistant U.S. attorney general, and president of the Sagamore Institute. Send comments on this column to [email protected]
Please enable JavaScript to view this content.