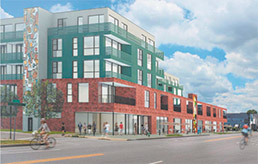 Jackson Development plans to redevelop nearly an entire city block in Fountain Square by tearing down five old structures and constructing a five-story building with 94 apartments and 8,500 square feet of commercial space. 
(Courtesy of Jackson Development)
The city of Indianapolis is putting a new twist on TIF financing to spur real estate projects that would benefit neighborhoods but lack the transformative potential of big downtown projects.
The Hogsett administration is targeting neighborhood projects that might not have gotten off the ground without a public subsidy—but that help comes with a catch.
Under traditional tax-increment financing deals, the city assumes the risk of a bond issue and must make up shortfalls if additional property tax revenue generated in the district falls short of debt payments. With the neighborhood projects, the developer backs the bonds and is on the hook for shortfalls.
"This provides the gap-filler, if you will, in those areas that are more difficult to finance," said David Corbitt, a municipal finance lawyer at Krieg DeVault LLP representing the city. "The real major difference is, it's putting the developer and its willingness to pay in front" of the city.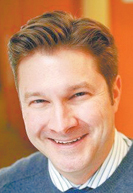 Bennett
Added Jeff Bennett, Hogsett's deputy mayor for community development: "It's not a one-size-fits-all approach. It's what [Mayor Joe Hogsett] talked about during the course of the campaign—taking 40 years of success downtown and leveraging it into neighborhoods."
Indianapolis is not the only central Indiana city to add developer-backed bonds to its quiver of financing options. Fishers, for instance, is considering a $6.9 million bond to help launch the 37-acre MedTech Park east of St. Vincent Fishers Hospital along East 136th Street and Interstate 69.
Two neighborhoods in Indianapolis slated to benefit from their use are Fountain Square and Mapleton-Fall Creek.
The city's Metropolitan Development Commission is poised to establish a TIF district in rebounding Fountain Square to cover the area where Carmel-based Jackson Development LLC wants to build an $18 million residential and commercial project.
It will sit on 1.02 acres at the southwest corner of Prospect and Spruce streets. That's a few blocks east of the neighborhood's commercial core, where Prospect intersects with Virginia Avenue and Shelby Street.
Jackson Development plans to redevelop nearly an entire city block by tearing down five old structures and constructing a five-story building with 94 apartments and 8,500 square feet of commercial space.
In exchange for city assistance—the amount has yet to be determined—Jackson Development has agreed to reserve 10 percent of the units as affordable housing.
The city is willing to provide the assistance because the project could dramatically overhaul part of the neighborhood and extend Fountain Square's core to the east, Bennett said.
Jackson Development has the land under contract and plans to start construction in June, if financing falls into place on time, Carter Jackson told MDC members in November. Jackson didn't respond to follow-up calls from IBJ seeking comment on the project.
The challenged Mapleton-Fall Creek area stands to gain from the financing option as well.
The Mapleton-Fall Creek Development Corp. and Merchants Affordable Housing Corp. aim to build a low-income housing development on Central Avenue between Fall Creek Parkway and 30th Street called Central@29.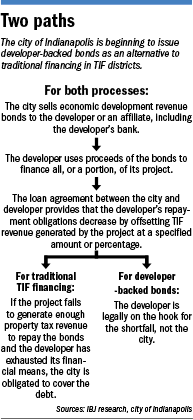 The City-County Council is set to consider the issuance of a $2.4 million developer-backed bond to kick off the project, which is slated to include up to $17 million in developer-backed bonds.
The first phase of the project is expected to cost $20 million and contain 114 low-income units. The second phase, estimated to cost $10 million, will accommodate senior residents. The second phase doesn't have a financing plan yet.
"That one hit on so many important points," Bennett at the city said. "Because it's all affordable, and in an emerging neighborhood, it was important to protect and maintain it."
City officials are considering developer-backed bonds to help finance a handful of other projects that aren't far enough along yet to provide details, Bennett said. Of the developers they've pitched the financing option to, none has dismissed it as a possibility, he added.
It's not clear how often developers might have to pay up under the new approach. Under conventional Indianapolis TIF deals, shortfalls have been uncommon.
Even so, developers would rather not back the bonds, given the choice, said Katie Culp, president of KSM Location Advisors, which represents private-sector clients in incentive negotiations. But municipalities have been turning more to the alternative in recent years to minimize their risk and ensure the developer has "some skin in the game," she said.
"Initially, developers balked," Culp said, "but now that [the bonds] have become more prevalent, they've recognized that they are here to stay."
Perhaps the biggest local project that will be financed with the help of developer-backed bonds is the $50 million Wilshaw mixed-use development in Speedway. The Town Council agreed to provide $5 million to Loftus Robinson and Scannell Properties, which expect to start construction in the spring.
Plans call for 150 apartments, 10 condominiums, a 120-room hotel, 15,000 square feet of retail, and a 500-space parking garage. The project is to be built on 3.4 acres the developers are buying from the town at the southeast corner of the roundabout near the front door of the Indianapolis Motor Speedway.
Even as it rolls out developer-backed bonds in neighborhoods, the city plans to stick with traditional TIF financing for large projects.
"We're still going to do downtown stuff," Bennett said. "But we really have to be focused on our outreach to neighborhoods."
The City-County Council on Dec. 5 approved expanding the downtown TIF district to include the former General Motors stamping plant property and the Market East Cultural District.•
Please enable JavaScript to view this content.