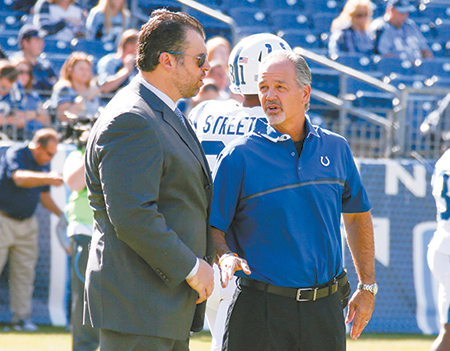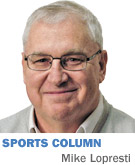 No wonder 2016 turned out so hard to predict. It began with a U-turn. 
Remember Jan. 4 at the Colts complex, one day after the end of an often ugly and entirely unsatisfying season? There might as well have been vultures slowly circling overhead, as Chuck Pagano and Ryan Grigson assembled with Jim Irsay. The next sound, everyone assumed, would be the guillotine dropping.
Wrong. On the day they were supposed to be history, the two landed contract extensions instead. The smiles were back. Until this past fall, anyway, when nothing much changed in the won-loss record, even with Andrew Luck healthy, mostly. The Colts could flounder at home and roll in Minnesota. The Pagano Watch has now resumed.
And thus, 2016 has come and nearly gone with all manner of odd and unforeseen doings—both nationally and in Indiana. Should we have expected anything else from a year that gave us the Chicago Cubs in the World Series, Tim Tebow in a baseball uniform, and Donald Trump in the White House?
This is the year Frank Vogel coached the Pacers back into the playoffs. Then was gone.
And Kevin Wilson coached Indiana into a second consecutive bowl game for the first time in 25 years. Then was gone.
This was the year of the 100th running of the Indianapolis 500. Surely the appropriate ending would be one of the sport's big stars swigging the milk? Suddenly, a rookie named Alexander Rossi appeared as if he had turned right off 16th Street.
This was the year Indiana beat Kentucky in the NCAA Tournament and Purdue lost to Little Rock. Wait, wasn't that supposed to be the other way around?
This was the year the Hoosiers rolled into the 2016-2017 season with wins over a pair of No. 3 ranked teams—Kansas and North Carolina—in the first five weeks, but also went 0-2 against the state of Indiana. They couldn't survive the Fort Wayne Mastodons, who had never beaten a ranked opponent in history. Then lost to Butler, whose resume looked like the best of anyone in the state.
This was the year the Griffith boys played a semi-state basketball game four days after their sideswiped team bus landed upside down in a ditch next to Interstate 65. It was a blessing that all the Panthers survived the accident on their way to the Lafayette semi-state, but when they played the postponed game four days later, one of them was in a knee brace, another wore an elbow sleeve, another had his stitched-up finger covered. Gary Hayes coached with a gash on his head. They lost to Marion by two points in a crushing disappointment, but as one of the players said, "We defeated death."
High school football has come light years in this state, but this was the year you couldn't tell by the four FBS colleges. Indiana, Purdue, Notre Dame and Ball State went a combined 17-31 in the regular season. Darrell Hazell didn't make it through his fourth year at Purdue, which was not exactly a shocker, since he was 9-33. More astonishing was how Notre Dame went from the preseason top 10, to 4-8.
This was the year the Carmel girls won their 30th consecutive state swimming championship. There are gold mines that have less metal than the Greyhounds' trophy case. It is remarkable to stand back and look at the feat from a distance, and realize that the girls who began the streak are now almost eligible for AARP membership.
Outside the state lines, this was the year of miraculous deliverance in downtrodden places. You're not supposed to survive falling behind 3-1 in a championship series, and you're never supposed to win Game 7 on the road. The Cleveland Cavaliers did both.
So did the Cubs, whose last title came in the age of the Wright brothers. Back then, the victory parade would have included a horse and buggy. It was like watching Charlie Brown getting doused with champagne.
The thing is, had the Cubs not rallied against the Indians, Cleveland—without a professional team championship in 52 years—would have won two within five months. Cleveland. Surely, this was an alternate universe.
For pure you-don't-see-this-every-day sagas, it was a banner year. Ryan Lochte went from Olympic swimming medalist to Pinocchio in a Speedo. Donald Trump's road to the presidency included campaign stops by noted political stumper Bob Knight. The NCAA Tournament came down to the last shot in the last second of the last game—a 3-pointer by Villanova's Kris Jenkins. Wake Forest football was violated by a one-man spy ring, who happened to be one of the team's radio broadcasters and former coach. The most surprising thing might have been how many opponents decided they needed insider information to beat Wake Forest in football. But apparently Indiana didn't consort with this gridiron Benedict Arnold, since the Hoosiers lost to the Demon Deacons.
We said goodbye this year to the career of Peyton Manning, forever a Colt, who is now seen mostly in television commercials—and is soon to be seen in Canton. Also to the playing days of Tamika Catchings, queen of the Indiana Fever and arguably of the WNBA at large.
Dodger broadcaster Vin Scully signed off for the last time this year, probably the only man in America who could truthfully say he was still the best at what he did at the age of 88. Deflategate finally, finally, finally ended.
This was the year the national anthem became a social issue, once Colin Kaepernick knelt for its playing. He was applauded by some for his activism and consciousness, but then didn't even take the time to vote.
It was the year an American teenager named Simone Biles wowed the Olympic audience with her style, and 31-year-old Michael Phelps awed it with his will—not to mention his scowl. And an IU swimmer named Lilly King grabbed the stage by winning gold medals and publicly skewering the Russians for their doping past.
It was the year for legends to leave us. Muhammad Ali and Arnold Palmer, Pat Summitt and Gordie Howe.
And on the north side of Indianapolis, this was the year the Butler Way came with the flag at half-staff. Final Four stalwart Andrew Smith died in January, the infant son of Assistant Coach Emerson Kampen was lost in February, and former Bulldog star Joel Cornette was gone in August, his memorial service in Hinkle Fieldhouse, whose aura this year was tear-stained.
On the court, Butler did well, winning a game in the NCAA Tournament in the spring and starting 10-1 with three wins over ranked opponents in the fall. But Chris Holtmann spent 2016 coaching his players in not only basketball, but life and death.
"It's been a really emotional year," he said. "I think it's been a real lesson for our guys about the brevity of life. There's no question there's been some perspective gained from our young people. I think there's been some good that's come out of it, in the sense our guys have been able to see people who have had to deal with really tough stuff in a real authentic way."
So there were reasons to laugh and reasons to cry, reasons to gasp and to shake your head. What about 2017? Well, it'll begin with another Irsay-Grigson-Pagano meeting. And probably no Colts playoff.•
__________
Lopresti is a lifelong resident of Richmond and a graduate of Ball State University. He was a columnist for USA Today and Gannett newspapers for 31 years; he covered 34 Final Fours, 30 Super Bowls, 32 World Series and 16 Olympics. His column appears weekly.
Please enable JavaScript to view this content.