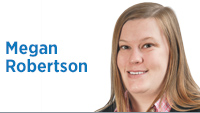 As we move into 2017, I find myself asking questions as opposed to having answers.
As much as I generally hate lists being passed off for journalism, it is exactly what I am going to do here.
Besides, I'm not a journalist.
Here are a few of the bigger things I'll be watching over the next few months:
The Trump presidency
Let's be honest here, no one knows what a Trump presidency will bring. There are fears and hopes, but no one has a clue what is going to happen.
Were the things he said on the campaign trail actual policy proposals like a physical wall and Muslim registry?
Were they just ideas that will never be literal policies?
Was it all just campaign themes to get votes but none of it has a shred of importance when it comes to actually governing?
We'll see.
Will the Republican senators be a balance of powers or a rubberstamp?
The GOP holds a majority in the U.S. Senate by a narrow margin with 52 Republicans. While this represents enough votes to get consensus Republican policies through, just three Republican defectors could torpedo any number of proposals including Supreme Court appointments and cabinet nominees.
When things get controversial, here are the Republican senators you should be watching: Susan Collins of Maine, Jeff Flake of Arizona, Lindsey Graham of South Carolina, John McCain of Arizona, Rand Paul of Kentucky, Marco Rubio of Florida, and Ben Sasse of Nebraska.
Obamacare: repeal and replace or flounder?
I oppose Obamacare—but not at all costs.
I am for repealing and replacing it all at once. Simply repealing it without a replacement leaves millions of Americans in limbo and threatens the stability of our current system.
I know there are a lot of ideas on how to replace the current system, but they need to be hashed out before voting to repeal.
And, we better get it right unless we want to hand the Democrats a campaign issue for the next several campaign cycles.
What is an Eric Holcomb Republican?
During the campaign when Gov. Holcomb was asked if he was a Mike Pence or a Mitch Daniels Republican, he would say he is an Eric Holcomb Republican.
What is that exactly?
We are about to find out.
What does the General Assembly do?
As long as there is a Legislature, there will be bills submitted that shouldn't see the light of day, let alone the governor's desk.
Gov. Daniels was successful in keeping things off his desk by killing them from the start with a full court press from his legislative staff.
Pence's administration was much more wait and see.
What will we see from Gov. Holcomb? Will he be the goalie who blocks bad legislation or will he let it sail through the net?•
Please enable JavaScript to view this content.