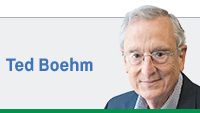 For many years, studies have shown a steady decline in public understanding of American history and the basic principles of American government. In 2012, retired U.S. Supreme Court Justice David Souter appeared at a university forum where he was asked if our schools bore responsibility to produce civically engaged students. Souter responded that "there is no more serious problem in the U.S. today than pervasive ignorance of the Constitution of the United States and the structure of government."
The responsibility lies not with the schools, but with the requirements we place or do not place upon them. Souter observed that civics education had been in significant decline since 1970. More recently, this has been exacerbated by the increased demand to focus on subjects necessary to preserve and advance America's technological and economic leadership. These subjects and the skills they facilitate are unquestionably important. But we need civic literacy as well, and we can't depend on extracurricular or voluntary programs like We the People to do the job.
In Souter's view, if citizens do not understand "how government can and should function," they do not know whom to hold accountable and do not understand the necessity to inform themselves as voters ultimately responsible for selecting the government.
The consequences of an uninformed body politic are severe. Souter quoted Thomas Jefferson: "An ignorant people can never remain a free people."
And he concluded, in a passage worth quoting in full:
"I don't worry about our losing republican government in the United States because I'm afraid of a foreign invasion. I don't worry about it because I think there is going to be a coup by the military as has happened in some other places.
"What I worry about is that when problems are not addressed, people will not know who is responsible. And when the problems get bad enough, as they might do, for example, with another serious terrorist attack, as they might do with another financial meltdown, some one person will come forward and say, 'Give me total power and I will solve this problem.'"
Enthusiasm for authoritarian regimes is rising in various countries around the world, including our own. Ultimately, the citizens of a democracy bear the responsibility for selecting their government. We still have a republic and, as Benjamin Franklin famously put it, we shall continue to have a republic "if we can keep it." Keeping it requires thoughtful attention to public issues.
Given the demands on our secondary educational institutions, research and creativity in devising methods to impart civic wisdom efficiently are needed more than ever before. Four years ago, IUPUI sought to launch a Center for Civic Literacy to "address the public deficit in constitutional and civic knowledge." The center's mission was to understand the dimensions of this civic deficit and develop tools for educators and others to address the problem.
The center received a three-year minimal funding grant from Indiana University and assembled a group of political scientists, educators, current and former legislators, judges, and senior executive officeholders from across the nation, but with a strong Hoosier flavor. Conferences were held in 2013 and 2014 to address such topics as the effects of this civic deficit on governing, the economy, education and civil society.
The center suspended its conferences and programs after the grant expired in 2015. This year, however, IU's School of Public and Environmental Affairs hoped to revive it with private funding. SPEA's leadership in this effort is admirable. I hope it can be sustained.•
 
Please enable JavaScript to view this content.