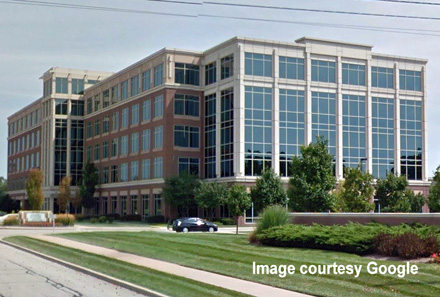 Local real estate firm Ambrose Property Group has paid $47.8 million to buy a north-side office building on Interstate 465, plus 14 acres of adjacent land primed for development.
 
Indianapolis-based Duke Realty Corp. sold the five-story, 187,147-square-foot Parkwood West building to Ambrose in a transaction that closed on Dec. 29, according to information submitted to IBJ by brokerage JLL. It represented Duke in the sale.
Ambrose President Aasif Bade declined to comment.
Parkwood West is primarily occupied by Bridgestone Firestone Diversified Products LLC and is located on the south side of Interstate 465 between North Meridian Street and Spring Mill Road.
Bridgestone, however, is expected to vacate the building by the end of 2017 as part of a corporate consolidation.
Parent Bridgestone Americas Inc. announced in late 2014 its plans to relocate three business units into a new headquarters in Nashville, Tennessee, including two Indy-area units that employ about 400 workers.
The 514,000-square-foot, 30-story facility in Nashville is valued at more than $232 million and is expected to be completed this year.
Bridgestone has a long-term lease at Parkwood West and is expected to market its space for sublease, local office brokers said.
Parkwood West's visibility from I-465 should help attract new tenants, said Jeff Harris, president of NAI Meridian. Other tenants include David A. Noyes & Co. and McDonald's Corp.
"The building is top of the market from the standpoint of location and construction," he said. "It has large floorplates and great visibility."
Parkwood West was built by Duke in 2007. In terms of rentable square feet, it ranks as the eighth-largest office building in the North Meridian corridor, according to IBJ statistics.
The accompanying 14 acres should be quite attractive for future development, too, Harris said. Upon developing Parkwood West, Duke originally had planned to construct three office buildings on the property before the real estate market collapsed.
"There are few, if any, pad-ready, pre-zoned sites in the market," he said.
Duke, a publicly traded real estate investment trust, is exiting the office market altogether. As part of that strategy, the company sold the Parkwood Crossing office complex, on the east side of North Meridian, in August for $162.9 million to a partnership of locally based Strategic Capital Partners and Philadelphia-based Rubenstein Partners.
Ambrose, located downtown on Monument Circle, recently sold its Circle Tower headquarters building. On Jan. 5, Chicago-based Level Office announced that it had acquired the 14-story, art deco building at 55 Monument Circle from Ambrose.
Please enable JavaScript to view this content.