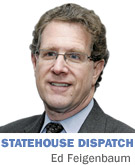 Perhaps the most popular myth about the responsibilities of the Indiana General Assembly is that it is constitutionally required to pass a budget every two years.
Not so. There is nothing in the Indiana Constitution requiring passage of a biennial budget, but that omission probably won't ever stop lawmakers from doing so.
So as legislators prepare to embark upon the tedious budget process, look for it to be a bit more complicated than in sessions across the last decade or so, with perhaps only 2009 budget-crafting coming close.
The problems are at both ends—revenue and appropriations.
Even though budget-making (especially when you want the budget to balance!) typically opens with understanding what amount of revenue you'll have to work with, it's perhaps more valuable for our purposes to start with the tail end of the process, the expenditures.
That's because the state has made certain levels of commitments you can expect to be honored going forward. Priorities that have been hammered out on the third floor of the Statehouse and signed into law on the second floor are not likely to be significantly altered.
But when you're talking about a $32 billion spending plan, a few million here or there is, effectively, "chump change" in the bigger picture. And if you noticed, the fiscal 2018-2019 budget proposed by Republican Gov. Eric Holcomb offers up several of those $5 million and $10 million tidbits, while making no major changes in the big-ticket items.
The two functional areas lawmakers use as starting points in shaping the budget are education and social services. In 2016-2017, almost two-thirds (63.6 percent) of the state's general fund spending was devoted to education (K-12 and higher education combined) and another 22.2 percent directed to health and human services. That left about 14 percent for all other government services, with public safety consuming another 6.5 percent of that slice of budget pie.
Holcomb proposes a budget for 2017-2019 that would send 63.9 percent of general fund spending toward education again, and 22.1 percent to Medicaid and human services, with 6.3 percent to public safety (sound familiar yet?).
Much of the budget in terms of subject areas appears to have largely been carved out given past legislative and current gubernatorial druthers, leaving just a small chunk of cash for discretionary purposes—and, of course, big arguments over how to divide cash up within silos, such as between public schools with declining enrollments and those with rapid growth; public schools and voucher schools; and at-need preschool programs and universal pre-K.
But the December revenue forecast indicated a shortfall of some $300 million for the fiscal year ending June 30, leading to expectations the 2018 budget would be tightened before expected revenue growth of 2.9 percent in 2018 and 3.9 percent in 2019 kicks in.
Lawmakers are wary of those projections and likely to be far more conservative in their spending plans than anticipated collections would portend. They are also fretting over uncertainty of federal funds for assorted programs.
Changes to the Affordable Care Act or a replacement plan could also dramatically affect state outlays for (and federal commitment to) the Healthy Indiana Plan 2.0, a potential major cash drain for the state now largely subsidized by the feds, thanks to fancy fiscal footwork by Hoosier Seema Verma, now running the federal Medicaid office.
As much as Hoosiers love to bash the federal government, federal spending accounted for 40.5 percent of the overall 2016 state revenue mix. Thus, any federal cuts could dramatically affect state spending—as could, on the flip side, a federal infrastructure spending program more focused than the 2009 federal stimulus package that bailed out that state budget.
With roads and infrastructure spending the big 2017 agenda item, federal funding uncertainty and questions about the economic future could push key budget decisions to the very end of the session, after the April forecast and an assessment of congressional resolve.•
__________
Feigenbaum publishes Indiana Legislative Insight. He can be reached at [email protected]
Please enable JavaScript to view this content.