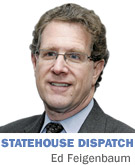 Usually, we inform you about a policy issue to watch or a process to monitor because it could affect a key policy matter. Sometimes, you'll even find a heads-up on how politics might affect policy.
Here, however, we'll admonish you to turn your attention toward a personality clearly poised to exert significant influence on policy across the next several years. He has quickly turned heads in the Statehouse over his willingness to plunge directly into policy debates … and isn't concerned about sacred cows in efforts not only to carry out his constitutional and statutory mandates, but to exert change in policy perhaps viewed as just outside the lines of his office.
The potential disruptive force—and not necessarily in a pejorative or even Trump-like sense—is Attorney General Curtis Hill Jr., a Republican and the former four-term Elkhart County prosecutor. 
He shattered stereotypes as the first African-American Republican elected statewide in Indiana, in grand style. Not only did Hill lead the 2016 ticket, but his vote total was the largest ever racked up by anyone in state history—topping Daniels, Lugar and Bayh vote totals of years past in his first time on the ballot outside of Elkhart County. 
He's the first county prosecutor elected attorney general since 1980 and assumed office with a prosecutorial mind-set, naming a fellow former county prosecutor from southeastern Indiana as his top aide and revamping some office functions to provide better assistance to prosecutors.
But more important, just as he vowed during the campaign, he's assuming a law-and-order stance on one of the most pervasive problems plaguing Hoosier communities from rich or poor, rural or urban, from Lake Michigan to the Ohio River: opioid abuse. 
Prescription drug abuse and efforts to mitigate it (which have perversely made such illegal drugs as heroin a lower-cost and more widely available option for abusers) is a key bipartisan agenda item for Republican Gov. Eric Holcomb and legislators.
The effort to curb abuse saw Holcomb naming a gubernatorial drug czar to oversee and coordinate programs, enlisting everyone from medical and mental health professionals who treat patients (and prescribe drugs) to the business community, which has found it difficult to eliminate chronic drug abuse from the workforce—particularly prescription medication users, legal or not. The law enforcement community and social services networks are also involved in broader legislative initiatives largely led by Sen. Jim Merritt, R-Indianapolis.
Hill, however, as the state's chief law enforcement officer, has largely adopted a take-no-prisoners approach of sorts to the opioid problem. While he's not opposed to components advocated by others involved in the anti-drug program, such as education and tougher prescription standards, he's acutely aware of his responsibility to enforce the law as written by lawmakers, and he's concerned about both the message and reality of syringe-exchange programs and criminal code revisions softening penalties for some drug offenders.
All of this quickly came to a head in the Legislature, where Holcomb administration officials, led by Indiana State Department of Health Commissioner Jerome Adams, a physician, testified before one committee to end the slow-walk policy on local government syringe-exchange programs while Hill urged the same panel in the same meeting to oppose loosening the standards. This was an uncomfortable—and unfamiliar—situation, given that recent Republican administrations have not found much, if any, air space between the Governor's Office and GOP statewide elected officials on legislative matters.
Hill convincingly won nomination over a strong field while making no enemies; owns a voter mandate; enjoys a solid, independent fundraising structure; doesn't owe his win to the state party, the governor or any particular base; and has assembled a strong staff. He's clearly on an upward trajectory and is willing to interject himself into policy debates. Consider Hill a key player on all issues falling within his purview … and take an expansive view of what fits into that portfolio. Pay attention.•
__________
Feigenbaum publishes Indiana Legislative Insight. He can be reached at [email protected]
 
Please enable JavaScript to view this content.