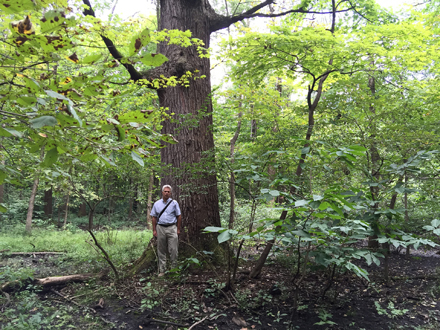 Indianapolis Mayor Joe Hogsett on Wednesday afternoon called on the U.S. Department of Veterans Affairs to halt its controversial plan to establish a cemetery on 15 wooded acres north of Crown Hill Cemetery.
In a written statement, Hogsett said he hopes the woods instead will become part of the city park system.
"Let us work together to achieve a lasting solution for our community that honors our veterans and preserves the irreplaceable Crown Hill North Woods as a crown jewel of our city's natural heritage," Hogsett said.
Environmentalists who want to preserve the property were dealt a setback in January, when a federal judge shot down their legal effort to block the cemetery development.
The Indiana Forest Alliance, one of the plaintiffs in the suit, is appealing Judge Jane Magnus-Stinson's decision to the U.S. Court of Appeals in Chicago.
Jeff Stant, executive director of the alliance, said in a statement that the group is heartened by the mayor's involvement.
"Starting now, we will redouble our efforts to make sure the VA hears his call and responds by building this cemetery in an appropriate location," he said.
The VA didn't immediately respond to IBJ's request for comment.
The administration paid $810,000 in September 2015 for 14.75 acres on the northern border of Crown Hill to create the cemetery, which would include a series of columbariums for housing cremated remains of veterans and eligible family members.
But the plan spurred vehement opposition from environmentalists and nearby residents who objected to the planned removal of old-growth trees at the site, some of which they say are at least 300 years old.
The VA's plan calls for the construction of a columbarium, an above-ground structure into which cremated remains are stored in urns. The Crown Hill columbarium would become the only VA national cemetery in the state dedicated to cremated veterans and their relatives.
A potential solution to the standoff emerged in November, when the Dr. Laura Hare Charitable Trust presented a "negotiable" offer to the VA to buy the property. Environmentalists said the deal would save the property from development and help the VA recover expenses related to its plans.
The VA so far hasn't responded to the offer, apparently signaling it plans to move forward.
"I feel a deep sense of responsibility to be responsive to the public's alarm about the future of the Woods," Hogsett said in his statement. "As such, I am calling upon the Department of Veterans Affairs to halt their efforts to develop the site. My dream would be for these Woods to become part of the City's park system—one that is an enduring monument to our fallen heroes and one that preserves sacred ground that has been undisturbed for hundreds of years."
Please enable JavaScript to view this content.